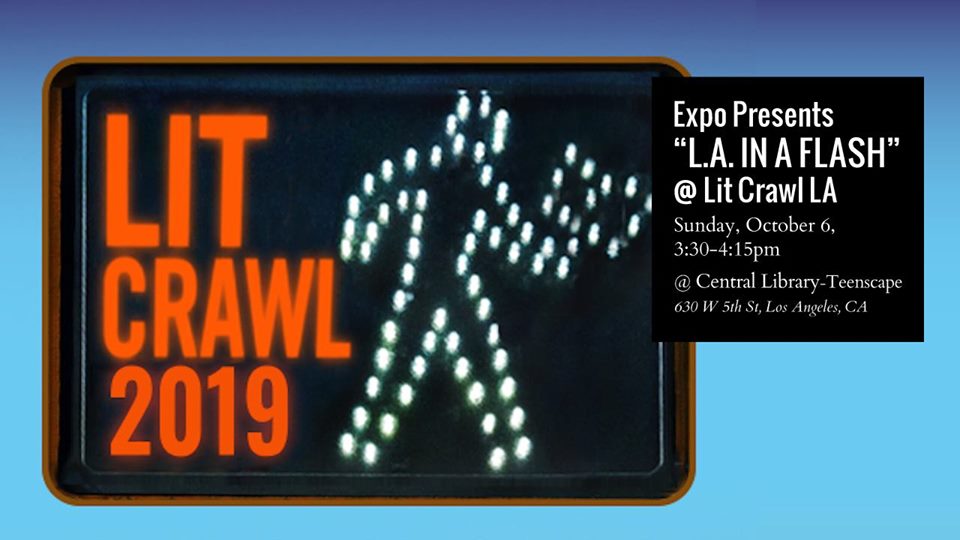 For a lit journal, fall is an exciting time of year. It usually means submission season is in full swing and a shiny new issue gleams on the horizon. But this year, beyond the excitement around our annual issue—and the fact that we'll be paying contributors to Vol. V: "Act/Break"—we're blocking our calendars with a focus on Lit Crawls and flash.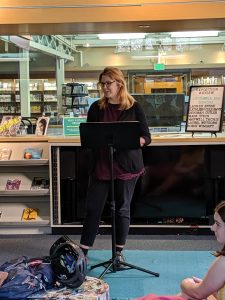 We continued our #ExpoPresents season at the sixth annual Lit Crawl L.A. and the return of our signature reading/micro-workshop. We settled in at Teen'Scape at the Los Angeles Central Library for our "L.A. in a Flash" event, where we invited winners from our Flash 405 contest to read in a variety of genres. After intros by our Nonfiction Editor Annlee Ellingson, we heard nonfiction from Melissa Secola, fiction from Eric Andrew Newman, Brie Radke, and Jackie DesForges, followed by a very short flash poem by Brooke Seipel, and a final flash piece by Chelsea Sutton.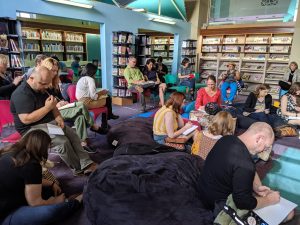 Then we turned the tables to our audience with a writing prompt. Since Lit Crawl L.A. was a community partner of CicLAVia, and most of our crowd left their car keys at home and opted for their bikes, the metro, a bus, or some other form of public transportation, our prompt invited them to write a piece—in any genre, of course—inspired by taking an alternative mode of transportation.
After a ten-minute writing session, our crowd wowed us. We heard from an eleven-year old, an actor who emphasized his piece with his facial expressions, a fellow MPW alumna, and even reader and Flash 405 winner Melissa Secola, who was clearly keeping the flash flowing. Between the pieces, Annlee gave feedback and encouragement, similar to the feedback you can get if you submit to our "Act/Break" issue by the November 1 feedback deadline.
It's always a treat to have an excuse to pal around the Los Angeles Public Library central branch—and to catch a glimpse of that oh-so-spectacular architecture, which Anthony Samaniego evocatively captured in the cover of our "IX Lives" issue—but we went one step further in visiting one of our favorite DTLA locales and invited our audience to The Library Bar for some post-event socializing among the books.
We had a blast at this #ExpoPresents, and thankfully the flash and Expo Presents don't stop here. Join us on October 19  for Lit Crawl San Francisco. We'll be at Creativity Explored from 6:30–7:30 PM for another interactive, multi-disciplinary micro-reading and workshop. And if you can't make Lit Crawl SF, we have more flash for you. Read the recently announced winners of Nancy Au's Flash 405 "Underneath the Words" contest here!