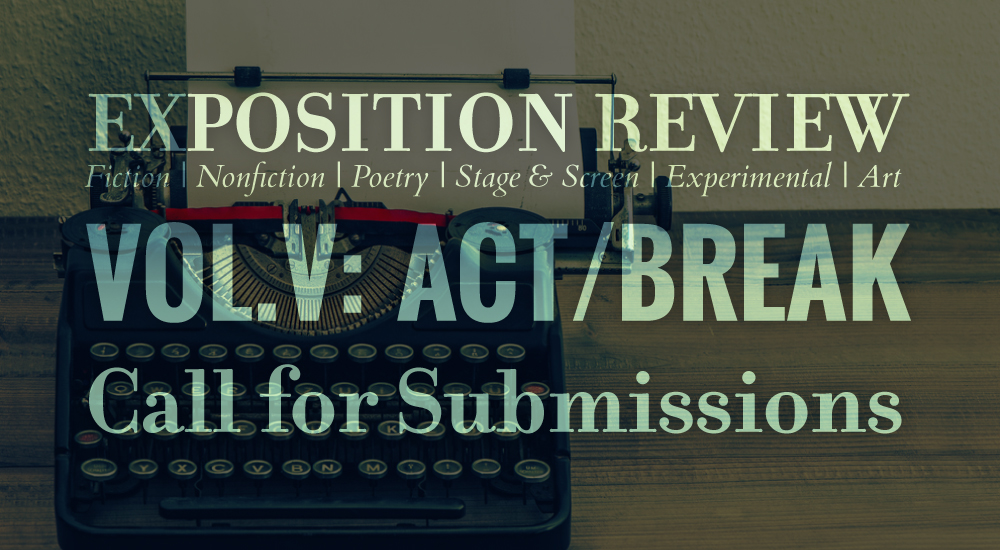 Exposition Review is excited to announce the theme for our fifth annual issue: Act/Break.
Submissions will be open from September 15–December 15, 2019. We accept work in all forms: fiction, nonfiction, poetry, scripts for stage & screen, experimental narratives, visual art, and comics. Volume V also includes a huge milestone: payment for all contributors.
Read more about the theme and how to submit:
ACT
Act is action. Movement, process, the firing gun for life. It can remind us of courage, the power to ignite change, or it can represent performance. An act can pinpoint where characters are on their journey. Are we in Act I or the bottom of Act II—the inciting incident, or the "all is lost" moment? Act requires a start.
BREAK
Break is disruption. It's a division, but not always a loss. It can be an object crushed or a new day forming. Characters can break free from adversity or break apart because of it. Break requires a stop.
ACT/BREAK
When creating a short story, poem, play, or even journal issue, we set about meticulously putting pieces together to create a body from many parts: the beginning, the end, and the spaces in between. We build, splinter, and reconnect. We pause to consider what's worth keeping and when change should happen.
That exploration is what we want to read. We want writers and artists that choose their beginnings, middles, and ends with purpose. We want characters who are authentic—who start and stop and question themselves. We want hybrid forms that challenge the way we experience work. Most importantly—we want you, writers and artists—your perspective, your experiences for Vol. V: "Act/Break". Interpret this theme in any direction you find inspiring.
For all submissions received before November 1st, 2019, we guarantee personalized feedback. All accepted work will receive $35.00 USD as payment. We are proud to officially be paying writers and artists for both our Flash 405 contests and Annual Issue. (Special thanks to our donors for helping us make this a reality for years to come.)
We look forward to reading your submissions!
Editorial Team
Editors-in-Chief: Lauren Gorski & Mellinda Hensley
Section Editors:
Fiction Editor: Jessica June Rowe
Nonfiction Editor: Annlee Ellingson
Poetry Editor: CD Eskilson
Stage & Screen Editor: Laura Rensing
Visual Art Editor: Brianna J.L. Smyk
Experimental Editor: Rebecca Luxton
Remember to check out our submission page for specific guidelines. Want an even better idea of what to submit to us? Read our previous issues.
We accept all submissions via Submittable: