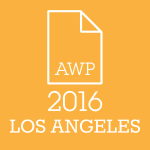 In just a few short weeks, Los Angeles will welcome the Association of Writers and Writing Programs conference, or what is better known as AWP. As an LA-based literary journal and a hub of LA's writing community, we, as good hosts and hostesses, couldn't pass up the opportunity dish out a little guide (complete with map) to Downtown Los Angeles and the Arts District.
We all know how the song goes: "Nobody walks in LA," but considering our Editor-at-Large David Ulin published Sidewalking: Coming to Terms with Los Angeles last year, we're building some foot traffic into this LA exploration. Even if it's only to let you marvel at the architectural details and street art that distinguish DTLA, the walk is worth it, and if that's not a good enough reason, did we mention the weather?
Grand Central Market: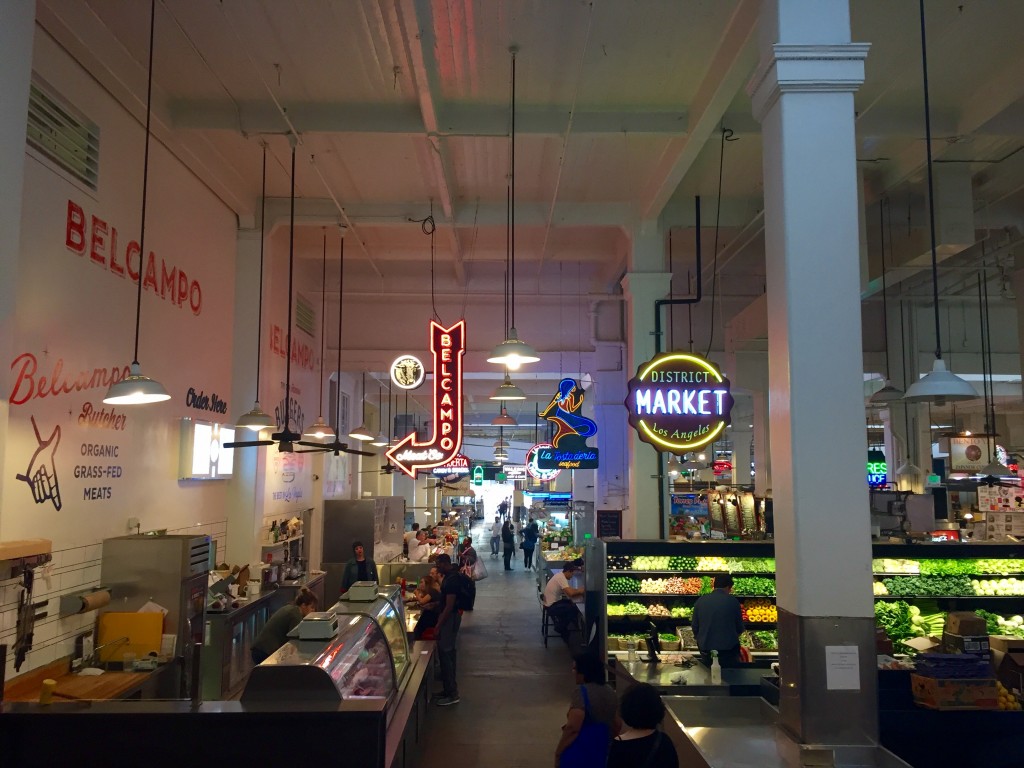 Start off on the right foot with a snack from Grand Central Market. This historic Downtown LA landmark has been in continuous operation since 1917, and as its neon signs indicate, it offers everything from fresh produce and meats to choice whiskey and fresh coffee. If you can stomach the price tag, Press Brothers Juicery indulges your inner health nut, but for a classic sweet, try Valerie's delectable pastries.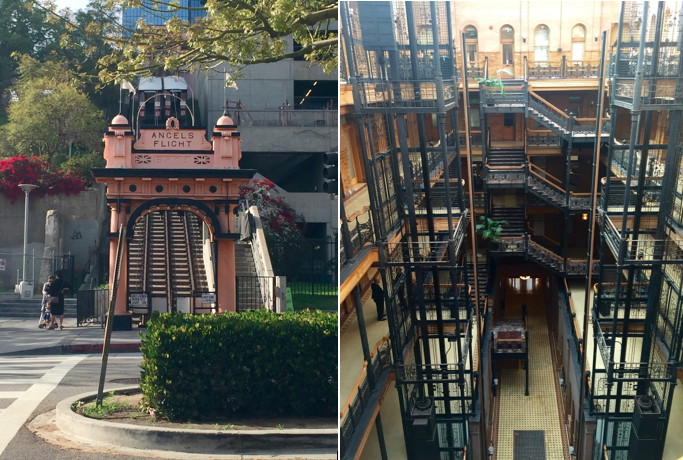 Be sure not to miss some of the market's neighboring LA landmarks. Angels Flight funicular is just across Hill Street, and you can check something off your Hollywood to-do list with a pit stop at the Bradbury Building. You may recognize its famous Victorian court as the backdrop films such as Blade Runner, Chinatown, and 500 Days of Summer.
The Last Bookstore: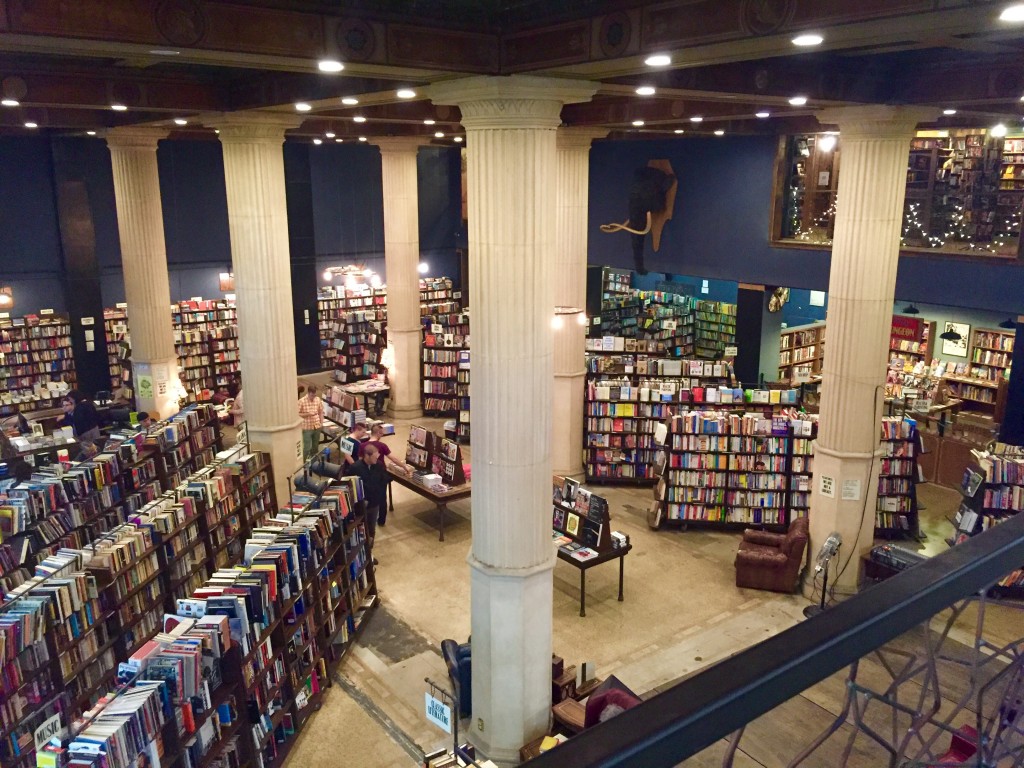 Let's face it, every writer loves books, and The Last Bookstore will make you swoon. As if browsing for books beneath a blue stuffed wooly mammoth isn't enough, the upstairs Labyrinth feels like something straight out of Harry Potter. Upstairs visitors will find bargain books, colorful art, a book tunnel, and we swear, if you're quick enough, you might even see the bookshelves move. Bonus tip: be sure to check out the AWP offsite events at this new and used book vendor.
Gallery Row: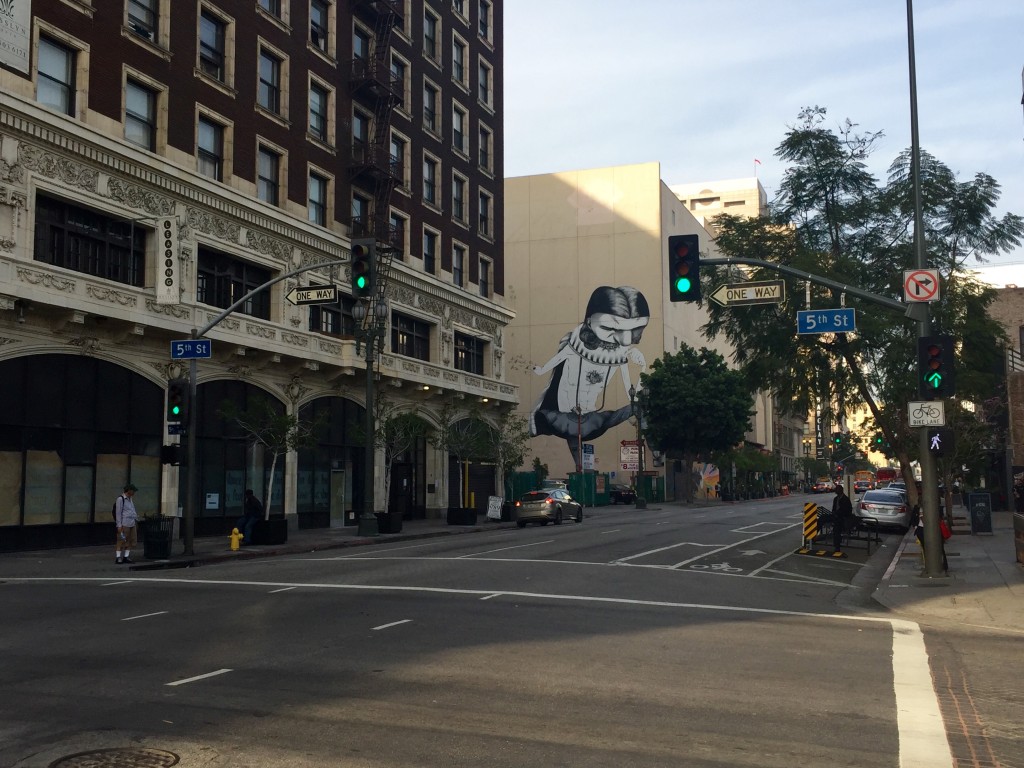 Continue south on Spring Street between 2nd and 9th and pop into any of Gallery Row's dozens of art galleries. Or if you're in a hurry, simply look up at the street art and save your art viewing for SCI-Arc Gallery, Wilding Cran Gallery, and the newly-opened Hauser Wirth & Schimmel closer to the river.
Clifton's Cafeteria: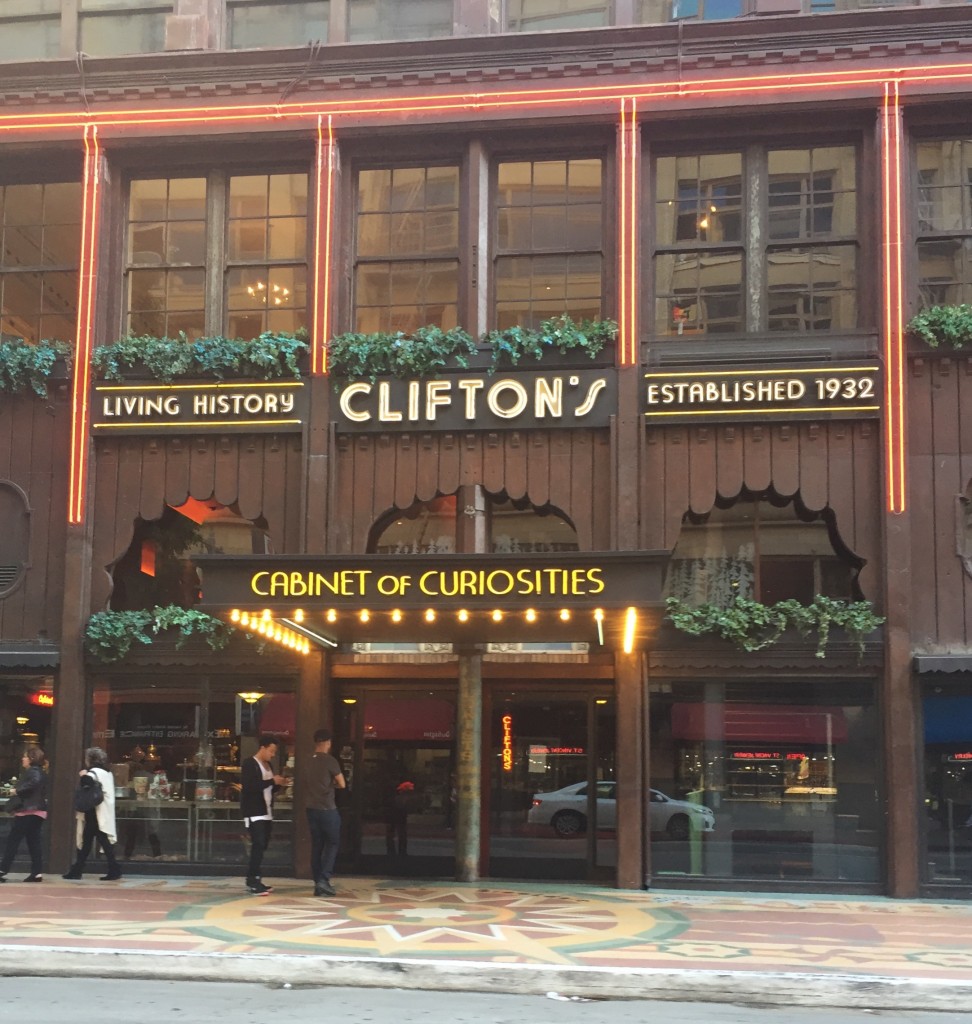 This newly-reopened establishment is worth visiting if only for the decor. Clifton's feels like something out of the past, and that might be because it's over eighty years old. A (fake) giant redwood tree, taxidermy animals, a meteorite, a booth named after Ray Bradbury, and a maze of dining areas will delight the eyes and imaginations, while craft cocktails and eats as low as 35 cents will tickle the tastebuds.
Skid Row:
No, we're not suggesting you hop, skip, and jump down Skid Row, but if you do decide to walk from Downtown to the Arts District, chances are you're going to find yourself in the heart of LA's homeless population. So if you choose not to catch a ride through this part of town, keep your wits about you, and either way, consider making a donation to the Los Angeles Mission or a similar charity.
The Los Angeles River: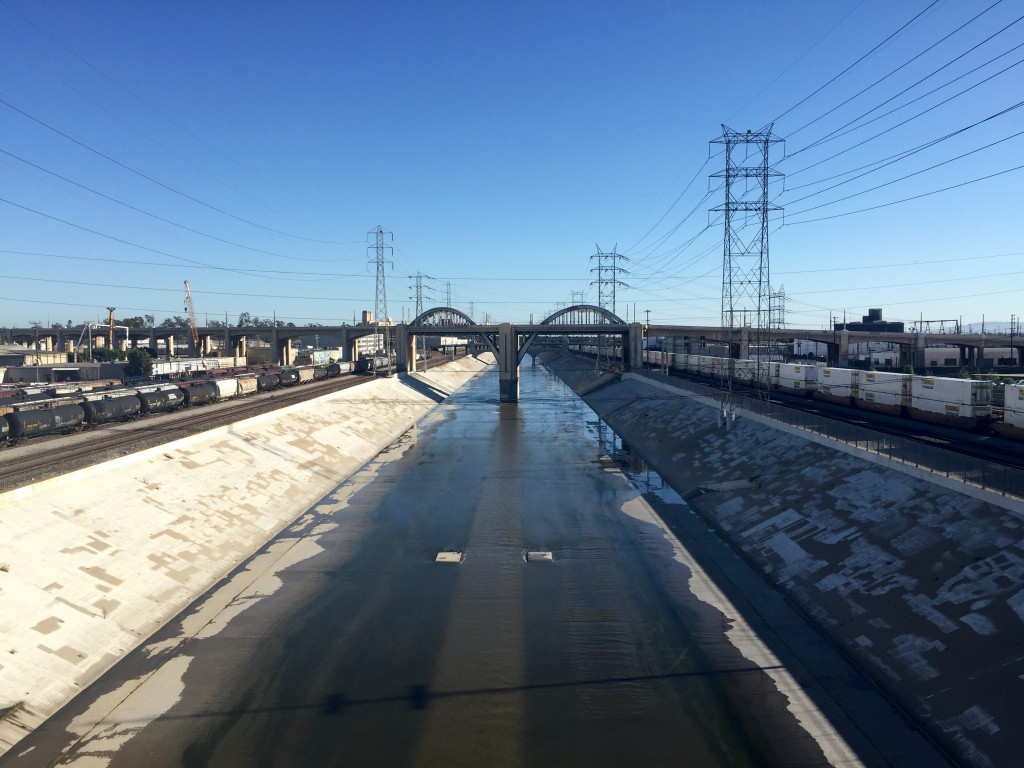 We all know the LA River, if only as the concrete racetrack home to many a cinema car race scene. From the 1st and 4th Street bridges, you can watch the water trickle through this iconic SoCal landmark on its way out to the Pacific Ocean. The bridges' stunning views of Downtown Los Angeles, the surrounding mountains, and historic train tracks beg for you to join them for a sunset stroll.
Hennessey + Ingalls: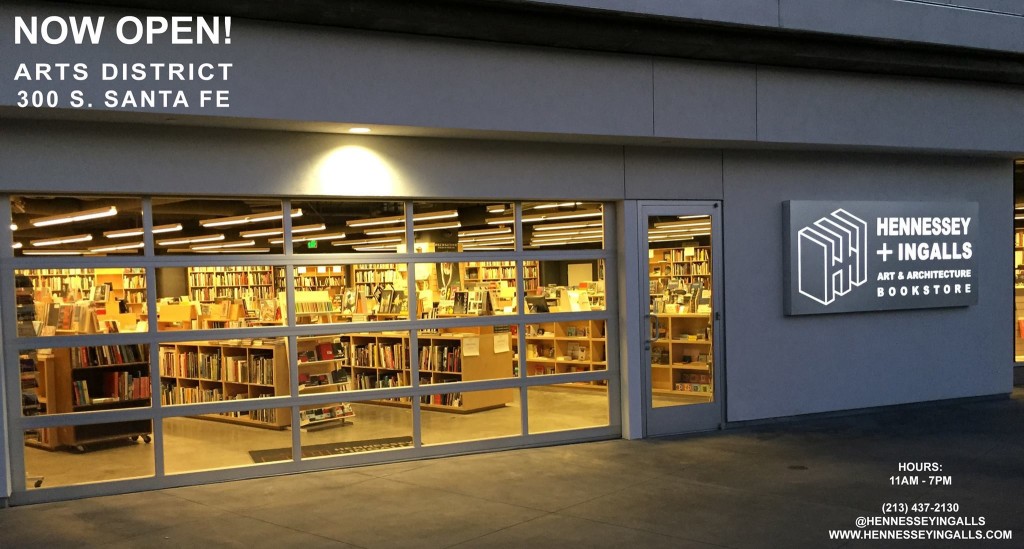 We admit it, we're biased about this one, but besides the fact that Hennessey + Ingalls is the home of Exposition Review's March 30 launch party (did we mention the first round's on us??), the newly-opened Arts District location of this art and architecture bookstore is also home to what is probably the largest array of visual arts books. We know, we know, we're writers, we want words, but these books are full of poetic descriptions and complex ideas, and if nothing else, the dazzling images within the pages are just waiting to inspire your next story.
EightyTwo & Angel City Brewery: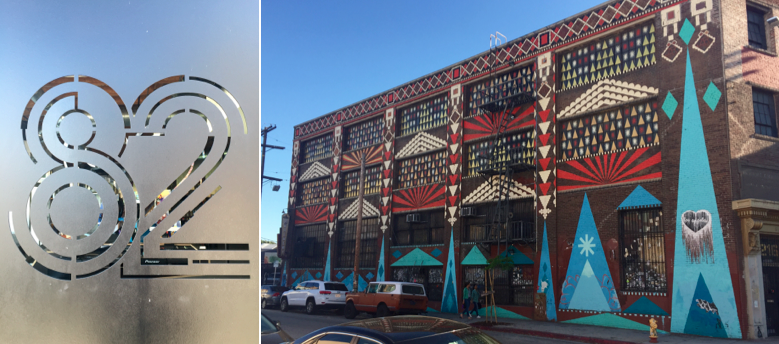 With a plethora of shops and restaurants, and art in the street, galleries, and museums, its obvious that the Arts District is blooming. For after-hours fun, EightyTwo is at the same time a blast from the past at home in the present. The 21+ arcade and bar offers restored pinball and arcade games from the 1970s through the 1990s. But if you're looking for the classic brew, Angel City Brewery is "proud to rough things up a bit and work beneath the shiny surface." With a rotating selection of classic and rare beers, tours and tastings, and Instagramable murals, this is a perfect place to unwind after a long day in the city.