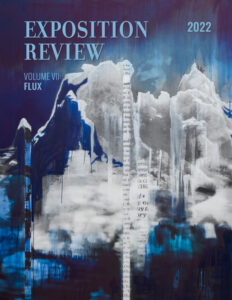 Exposition Review is thrilled to share our latest issue, Vol. VII: "Flux"! This edition captures moments of change—gradual and sudden, subtle and profound, intensely personal and immensely public. Yet time still flows, carrying readers with it through the stages of life, through relationships, through grief, and through art.
The poetry, prose, scripts, and images within these pages play off these themes and each other, speaking to us individually but also talking to each other. As you explore this issue, you'll find those reverberations within sections, echoes across genres, and perhaps, as we did, resonances in your own life.
After two years of virtual launches—starting our podcast Transposition in 2020 and holding a Crowdcast reading hosted by Skylight Books last year—Expo was ecstatic to return to Skylight's store in Los Angeles to celebrate "Flux" in person!
Launch Party & Reading
On Saturday, June 11, "Flux" contributors across multiple genres and from across the country descended on Skylight to share their work. Introduced by our editors who shared their responses to each piece, writers in fiction and poetry, nonfiction and experimental took the mic—as well as presented a film clip and staged a reading of a play excerpt. It was so wonderful to meet our contributors and witness them bring their words to life that we couldn't let the party stop there, lingering over dessert and wine.
Thank you to Skylight Books for welcoming us back into your space, and to our contributors, editors, friends, and family who celebrated "Flux" with us!
If you want to see what our new catchphrase "Flux Yes!" is all about, check out the full Vol. VII: "Flux" issue. And don't forget to say hi over on social, listen to season three of our podcast this summer, and subscribe to our newsletter to be the first to hear about all our events, issues, contests, calls for submission, and more!