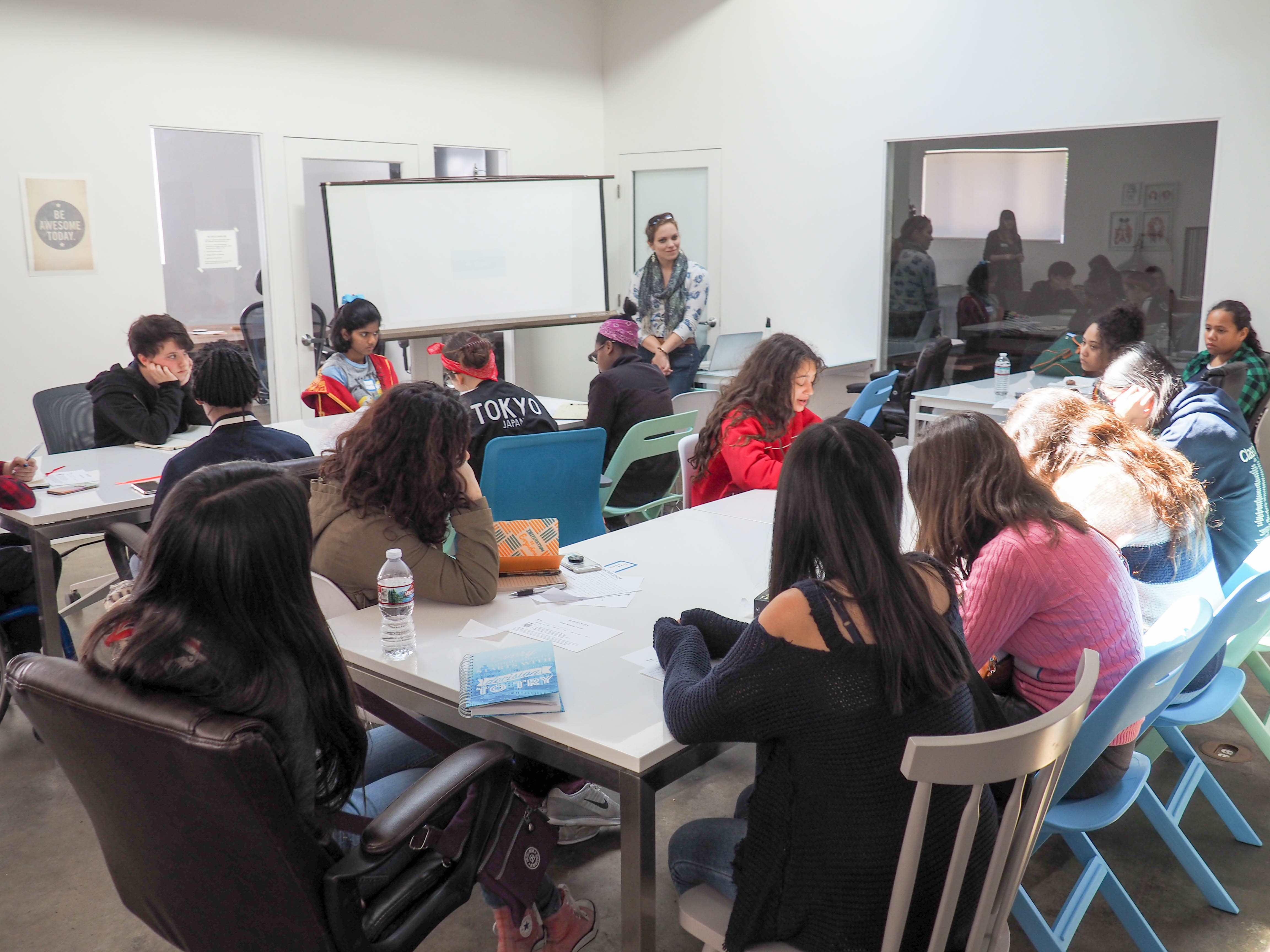 In 2017, Exposition Review had the pleasure of hosting our first seminar and interactive workshop for WriteGirl at The Hatchery. WriteGirl is a fantastic Los Angeles-based non-profit dedicated to mentoring young women and developing their creative writing skills as they progress through junior high and high school, while The Hatchery is a unique co-working space and community of writers in the Larchmont area.
With the success of last year's workshop–which resulted in the publication of pieces by WriteGirls Vivian Enriquez and Angela He in our "Surface" issue–we were looking forward to once again collaborating with WriteGirl and The Hatchery, but we couldn't resist expanding our youth-centered #ExpoPresents to another creative writing non-profit: 826LA. This amazing organization provides free programs, including mentoring, workshops, tutoring, and more, to over 9,000 students in the LA area.
Our "Share Your Voice!" seminar was created to help students and young writers take their writing from the workshop to the next logical step: publication. From preparing a submission, to dealing with rejection or promoting a published piece, we wanted to provide insights based on our experiences as working writers as well as editors of an independent, multi-genre literary journal.
With girls from both WriteGirl and 826LA, we had nearly double the turnout of our previous seminar, almost filling the large room at The Hatchery to capacity. While we had a few technical hiccups (you might not be able to see the actual presentation projected on the screen in the pictures, but it was there, we promise!), the girls came ready to listen and speak up with insightful questions about the submission process.
.
Keeping in line with our signature #ExpoPresents, we couldn't end this seminar without an on-site writing component. We gave each participant the opportunity to draft and get feedback on a cover letter during our micro-workshop break out session. We also gave them a walk-through of the Submittable platform. Armed with this knowledge, they could then submit their original work to Exposition Review to be considered for publication in our 2018, Vol. III: "Orbit." We will be publishing up to two pieces from the attendees of the workshop.
If you're interested in hearing more about other workshops, panels, and #ExpoPresents events, follow us on Twitter, Facebook, or Instagram! If you're wondering how you can submit YOUR work to us, check out our submission guidelines for our annual issue (accepting in fall–winter) or our Flash 405 contest (open bimonthly spring–summer).