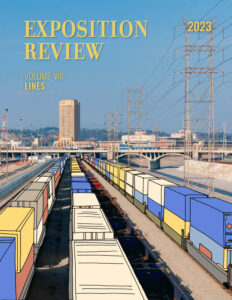 Exposition Review is thrilled to share our latest issue, Vol. VIII: "Lines"!
This edition explores connection. Between parents and children, artists and fans, friends and lovers, robots and humans. To one's city and across borders. Via humor and through grief. The lines within this issue are both physical and metaphorical, and throughout—like on our cover specially designed by Kwasi Boyd-Bouldin—illustrate the moments when art intersects reality, when we scrawl over the way the world appears and redesign what is into what could be.
After months of hard work, Exposition Review's editors, contributors, and community recently connected in person at one of our favorite Los Angeles bookstores, Skylight Books, to celebrate "Lines."
Launch Party & Reading
On Sunday, June 4, "Lines" contributors across multiple genres gathered at Skylight to share their work. Introduced by our editors, writers in fiction and nonfiction, stage & screen and experimental took the mic, and one of our artists presented the process behind her artwork. It was so wonderful to meet our contributors and witness them bring their words to life that we couldn't let the party stop there, lingering over dessert and wine.
Thank you to Skylight Books for once again welcoming us into your space, and to our contributors, editors, friends, and family who celebrated "Lines" with us!
To see what all the buzz is about, check out the full multi-genre Vol. VIII: "Lines" issue. And don't forget to say hi over on social, listen to our podcast, and subscribe to our newsletter to be the first to hear about all our events, issues, contests, calls for submissions, and more!