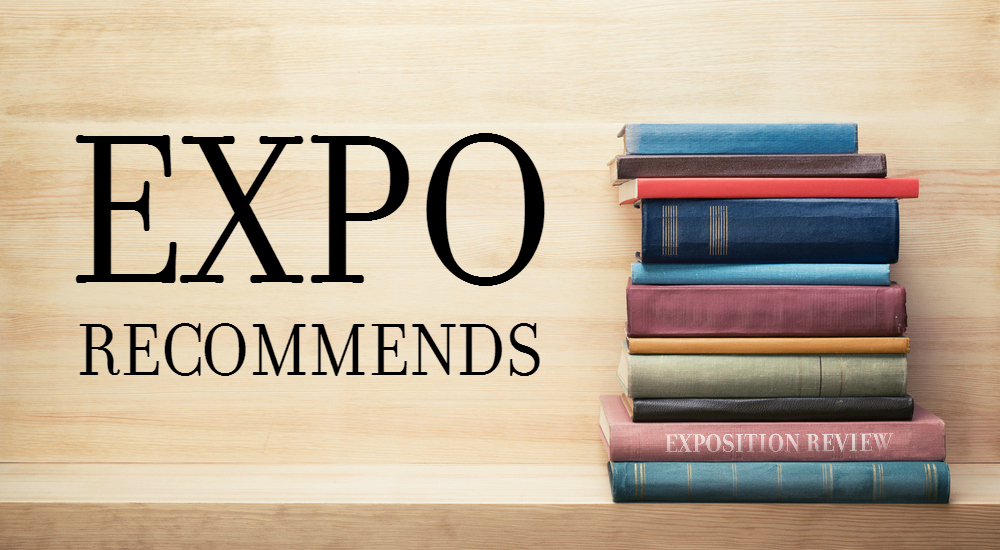 What should I read next? It's a question we all ask ourselves time and again. Even with the countless essays, novels, screenplays, poems, and transmedia pieces to discover, to fall in love with or to detest, it can be a challenge to choose. Enter Expo Recommends, a curated selection of readings brought to you by the editors of Exposition Review.
This month, we have Expo's Associate Editor and Southern California Review Vol. VIII Poetry Editor Abigail Mitchell!
From Abigail:
Here's something you've heard a lot of people say lately: 2016 sucked. It was a bizarre, horrible, ridiculous-awful year for a lot of us. There were a lot of moments in my life, personally, that were really difficult, but there were also lots of bad moments that were much bigger than me; times that 2016 kicked all of us in the face, and everyone I knew was bobbing around in the same sea of weird grief and frustration. (If you weren't, please, answers on a postcard . . . how the h-e-double-hockey-sticks did you do it?!)
So, it was tough. I'd say something here about reading to escape reality, but I don't think that's necessarily true. Mostly, the things I liked best last year were things that made me feel connected to the world again. Things that gave me clarity, or anchored me somehow. Like, they weren't particularly highbrow, and they weren't the things that won all the awards, but they were things that made me feel like things would be better, soon—or, like even if they weren't, I wasn't alone in being in that kicked-in-the-face-WTF kind of place.
Now, with 2017 ahead of us, I'm recommending some of my favorite things to you. I hope these books give you all the hope I now have for the year to come…
Poetry
First and foremost I've been reading poems. What a shock! (Said nobody at all.) I like poetry because it's this cool mix of hazy and clear. Like it dances around the point but the dance itself is beautiful. There's something about reading poetry that makes you really feel like you're reading. It's hard to do casually. For me, anyway.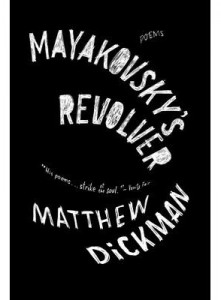 I read a lot of single poems last year that stuck with me: Meg Day's "Elegy in Translation," Annelyse Gelman's "Conch". "Cradle" by Anis Mojgani. I also read and reread some great collections: Cristin O'Keefe Aptowicz's Year of No Mistakes (shout out to Cristin, who has recommended me some of my favorite collections!), Sharon Olds' Stag's Leap, and Jeremy Radin's Slowdance with Sasquatch (yes, Write Bloody is my favorite press, okay?). The one that stands out, though, has to be an old favorite: Matthew Dickman's Mayakovsky's Revolver. I heard him read for the first time in late 2013, when I was in Trinie Dalton's fairytales class at USC, and bought the book soon after. Since then, I've reread it on almost every plane journey I've been on—including my trips last year to LA, Boston, Columbus, Toronto, and back home to London. A sneak peek:
I keep thinking about the way
blackberries will make the mouth
of an eight-year old look like he's a ghost
that's been shot in the face.
– Matthew Dickman, Mayakovsky's Revolver.
If you read nothing else on my list, read Matthew Dickman. Okay? Okay. 
Fiction
The fiction I've read this year has been in turn awesome and tedious and plodding, but the things that I've enjoyed the most are old favorites. I want to recommend two in particular: Amy Krouse Rosenthal's Encyclopedia of an Ordinary Life, and David Levithan's The Lover's Dictionary. Both of them are easy to dip into and out of, and I love how the fragmented storytelling fits the form (an encyclopedia and dictionary, respectively) to create a whole world, but also means you can enjoy the individual pieces.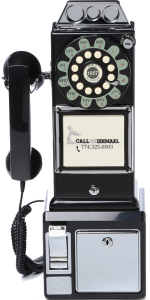 In lieu of trying to remember other fiction that I enjoyed, I'm instead going to recommend that you check out Call Me Ishmael. It's an amazing project, where you can listen to people leaving voicemails recommending books—or leave one of your own. I met Logan and Sam at AWP in LA last year, and am STILL trying to work up the courage to call and leave a message. (What can I say? The handsome southern gentleman was very persuasive.) ANYWAY: you should listen to them, because the voicemails aren't just recommendations- they're micro-essays, tiny memoirs. Very cool. The one for Webster's Dictionary blew my mind.
Nonfiction
I was more into nonfiction last year than I've ever been before. I'm going to narrow my recommendations down to three things, because that seems reasonable. (Is it? I don't know what's reasonable. Sorry.)
Anyway, this spring I was dealing with some mental health stuff, and I picked up this dinky, short little book in Costco called Reasons to Stay Alive. It's by a fellow Brit named Matt Haig, and it's a memoir, I suppose, very fragmented and exploratory. It's about his struggles with anxiety and depression, and I read it cover to cover and I felt better after I did so. I think a better explanation of this book is Jeanette Winterson's: "Matt Haig uses words like a tin-opener. We are the tin."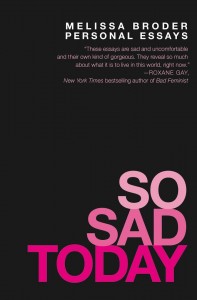 In the summer, I started reading another book in kind of a similar vein- but with a very different feel. Someone I know had been going on and on about So Sad Today, by Melissa Broder, so I picked it up in a Boston Barnes and Noble and have been dipping in and out of it ever since. My favourite thing about the book is that it is at once very honest and also very uncomfortable to read. It's fearlessly written and it doesn't skirt the messy stuff or worry about sounding narcissistic (what is memoir if it isn't narcissism?!) and I don't think it's for everyone. If you check out the Twitter it all began with (@sosadtoday) that should give you some clue as to whether it's your cup of tea or not. I didn't think it was my cup of tea when I first started reading it… But I can't get it out of my head.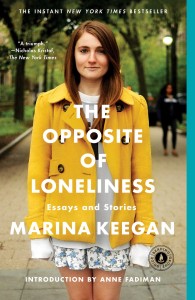 My third recommendation is a combination of short stories and memoirs: The Opposite of Loneliness, by Marina Keegan. Her titular essay went viral back in 2012, when she graduated from Yale. Five days after that graduation, she died in a car crash. I don't know whether it was the writing or the circumstances, but I cried the whole way through reading this. I've been thinking about this collection a lot, recently, with the death of one of our fellow MPW alumni. One of my first friends in the program, David Crist, died in a motorcycle accident in December 2016. Like Marina, he was a talented writer. He was also a wonderful person. Even when he was having a tough time, he always found a way to smile. He was one of those people who gave you the sense he was really living his life to the fullest. So, I'm recommending Marina's book because I'm sad that I can't recommend you David's. I'm sure everybody else at Expo will join me in saying that he'll be missed. My heart goes out to his friends and family.
From Expo
Finally, to recommend some pieces from Expo's 2016. Obviously, I have to shout out to the winners of my own Flash 405 contest. In fiction, I also thought Hafeez Lakhani's "Jordans" was great, and really enjoyed "Overexposure" by Matt Kolb. It was especially cool to meet both Matt and Hafeez at AWP; it's awesome to have them in our little community of contributors. What I keep coming back to, though, is "The Reconstructionists" by Rebecca Thomas. You have to love a confessional piece that feels like it was difficult to tell, and I particularly enjoyed this one for it's attention to its own use of a collective first person narrative. 
I don't know what 2017 will bring, but I like to hope that it'll bring good things. If nothing else, it'll bring excellent art. With Expo's Vol II reading window now closed, I've been reading a lot of pieces that really spoke to me, and it's been an honor and a privilege to get to do so. I can't wait for you all to see the pieces that the team chooses, because they're sure to be great, provocative, and passionate.
Happy 2017, Expo community. Keep writing!