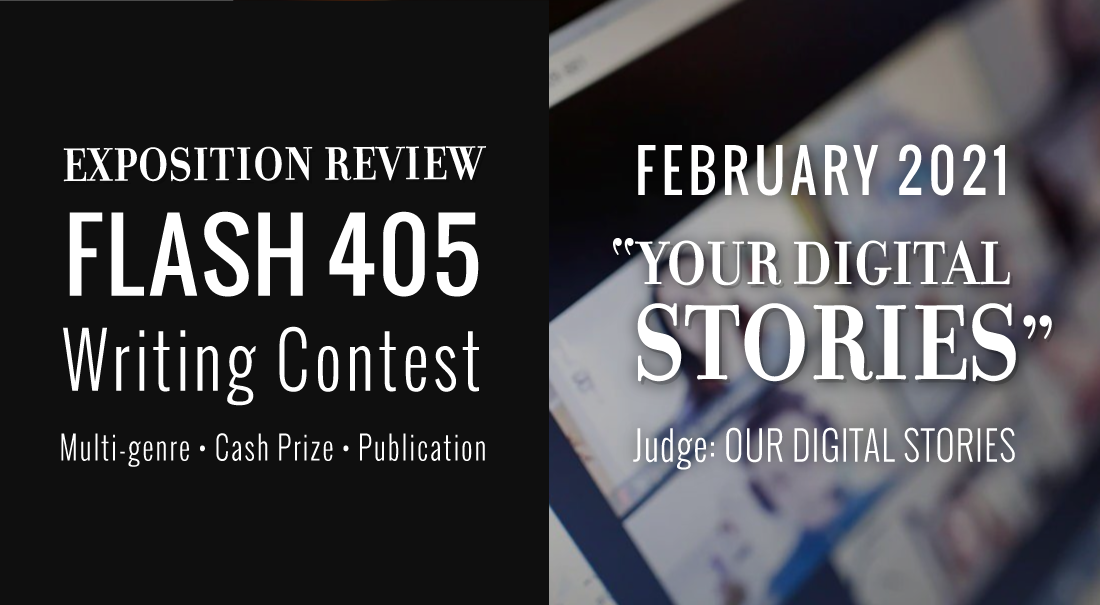 We're back for another year of Flash 405, and kicking off 2021 with a twist! Our February contest is a collaboration with one of our favorite creative orgs to come out of the pandemic: OUR DIGITAL STORIES!
Entries will be accepted from Feb 4–Mar 5, 2021 via Submittable.  You can read the full rules and find past contests and winners here, but note the rules (and prizes!) for this round are a bit different.
Read on to learn more about this month's contest:
– February 2021 Round –
The Judge: OUR DIGITAL STORIES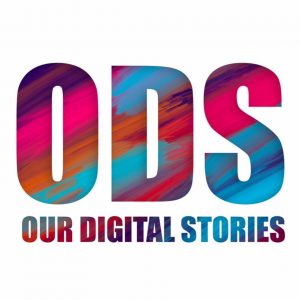 The idea for Digital Stories came from a place of need. A group of artists were in the beginnings of the COVID-19 pandemic and eager to find a way to contribute to the community and to find a creative outlet while sheltering in place. What came of it was a fundraiser event surrounding a series of pieces that were set within the digital world – video chats, phone calls, texts – and performed on the digital medium of the story. We saw these as a hybrid of a ten minute play and a short film and called them "Digital Stories."
When we created these Digital Stories, we realized something interesting and quite special. The health concerns of the world required us to stay apart from each other and we wanted to see what would happen if we leaned into this need to stay apart and see what it did for our storytelling. Although this new format of storytelling was not going to replace what we loved about live theatre or film and television, this format of play provided us an opportunity to create stories that felt surprisingly intimate in a way that feels entirely real and entirely of the moment. With OUR DIGITAL STORIES we are looking to continue this work through regular episodes where we will present a number of individual Digital Stories while partnering with different community service and arts organizations to help support them. In addition to this, we hope that by using the internet as our venue, OUR DIGITAL STORIES can be a point of access to storytelling and representation for all communities.
Check out their website here.
The Theme: Your Digital Stories
From ODS:
"With our lives more online than ever, we are excited by all the stories that take place within the digital world – video chats, phone calls, texts, etc. From the start of AOL messaging, the digital world has witnessed an abundance of stories — private, personal, and public have all floated somewhere on the ether. Friendships and relationships have begun or survived or ended; people have lost themselves; people have found themselves. We want to hear your digital stories!
Create a piece set within the digital world (i.e. a short play on Zoom, a poem via text message, a nonfiction piece performed on a phone call, etc.). The piece should include some element of performance, though what that means is up to you. Pieces should run no more than ten minutes when performed (between 5-10 pages, depending on format). Let us know in your application whether you would like to perform this piece yourself if selected, or for an actor(s) to take the role on."
The winning pieces will be featured in an upcoming volume of OUR DIGITAL STORIES.
Entry Fees & Donations
40% of all entry fees will be dedicated to a donation fund or mutual fund in support of a community partner chosen by OUR DIGITAL STORIES. (The other 60% goes directly to the contest winners.)
For anyone who donates $5 to a charity of their choice, we will waive the $5 entry fee and they can submit to Flash 405 for free until March 5, 2021. Please email your donation receipt and entry to: expositionreview@gmail.com. No need to submit through Submittable.
---
Ready to start writing? Please reach out to expositionreview@gmail.com with any questions.
Good luck!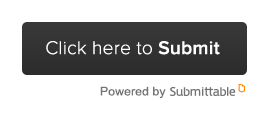 – Submissions open Feb 4–Mar 5, 2021 –