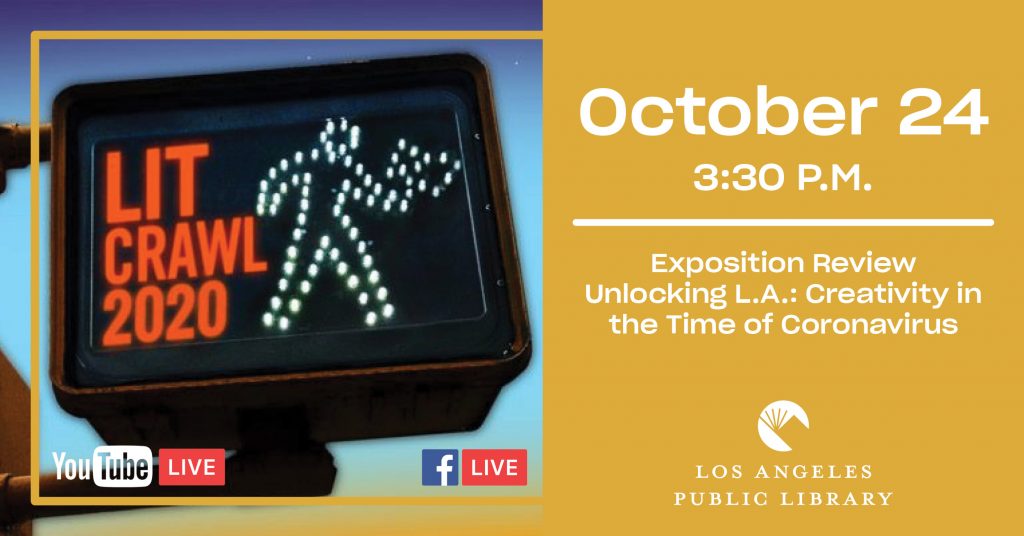 Lit Crawl L.A., like so many events in 2020, looked a little different this year. Though we couldn't get together in person to celebrate Los Angeles' literary scene, we gathered online thanks to the Los Angeles Public Library, who hosted a livestream reading via Youtube and Facebook Live on October 24 as part of Lit Crawl Global. 
Unlocking L.A.: Creativity in the Time of Coronavirus
With the reading taking place during lockdown, we wanted to virtually tour Los Angeles with selections from our "Act/Break" issue in Expo's Lit Crawl segment, "Unlocking L.A.: Creativity in the Time of Coronavirus." Hosted by Expo editor Annlee Ellingson, we kicked things off with Chloe Martinez's poem, "The Flower Vendors" , which centers on a fresco by Alfredo Ramos Martínez at Scripps College in Claremont.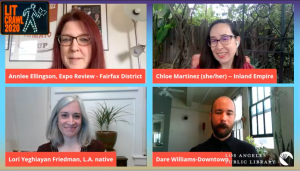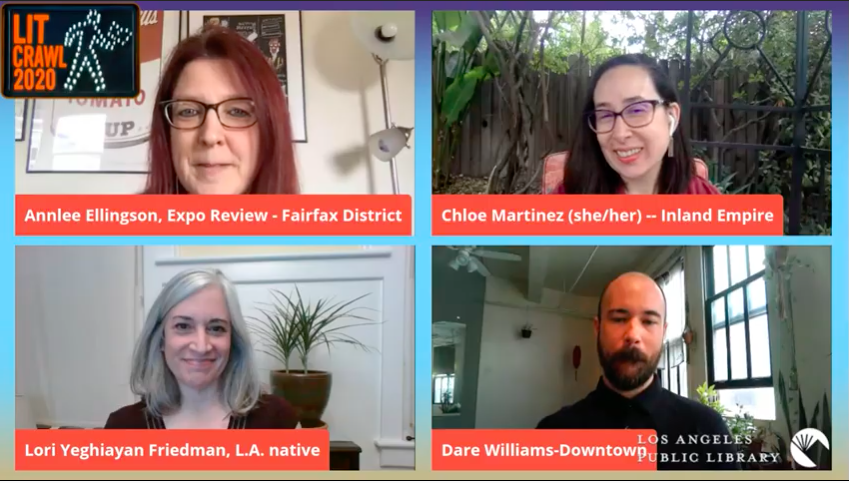 Lori Yeghiayan Friedman's followed with an excerpt of her pensive nonfiction piece "How to Survive a Genocide", a vast recollection of growing up as a child of Armenian parents in Santa Monica. Dare Williams read our final piece of the afternoon,"Etymology", that took us on an evocative venture starting in Phoenix and leaving us breathless in Hollywood.
Of course, it wouldn't be an Expo Presents event without some audience participation, so we asked our viewers on Facebook and YouTube to share in the chat the places around Los Angeles that they miss or are inspired by during the pandemic. Here is some of what they shared:
Riding a bike along the beach

Plays, concerts, people-watching, and malls

Sitting in boba shops and writing poems

Wandering LACMA

Ramen

Going to bookstore readings, especially at Skylight with its iconic tree
Here at Expo, we very much missed being able to Lit Crawl in person this year, but we were also so inspired by the global scope enabled by a virtual event and the unique way we were all able to connect. 
Send Us Your Work About Los Angeles
But what about you? After hearing our presenters' work and perusing some of what our audience shared, are you feeling inspired by L.A.? If so, we'd love to read about it! Write about a location in L.A. you've been to recently or, if you're from elsewhere, a place you'd like to visit when you're able. Fictionalize it; turn it into a poem; write a scene for a movie or a play. Then email it to us at expositionreview@gmail.com, and we'll share it on social media!