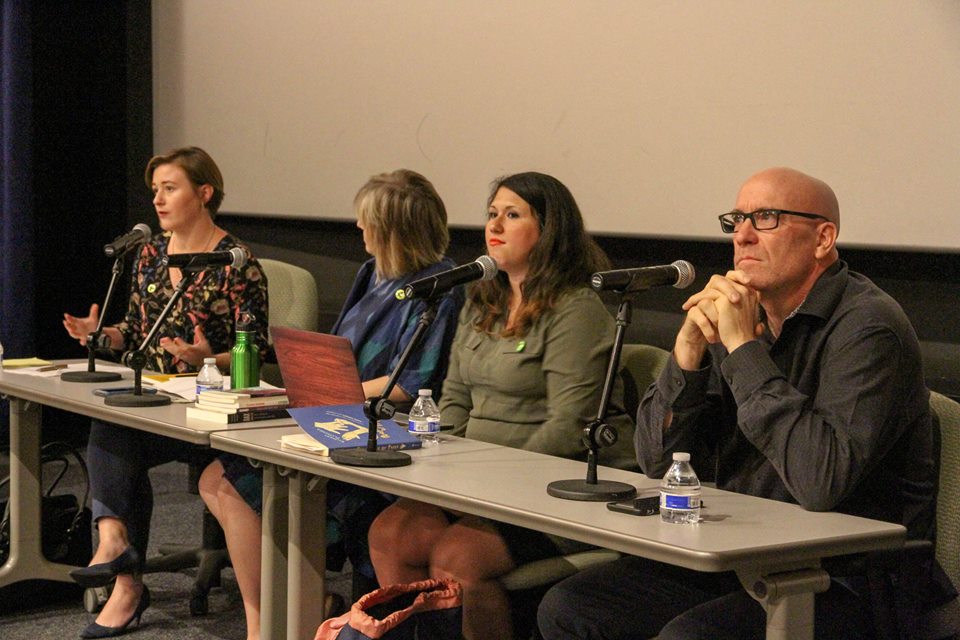 Earlier this month Exposition Review had the pleasure of being invited to host a panel & micro-workshop at the first annual Southern California Poetry Festival, held in partnership with the Poetry Foundation.  The topic of the day was Bending Boundaries: How Hybrid Poems Cross Genres, featuring multi-genre writers and artists discussing everything from.
After introductions by Expo editor and moderator Mellinda Hensley, the panel began with a broad spectrum of readings that included image, media, multiple languages, and even some traditional poetry.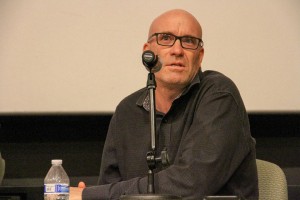 Filmmaker and artist John Lucas played one of his "situation" videos, which pair his videography and editing with Claudia Rankine's reading of her"situation" scripts/poems. In honor of the anniversary of 9/11, Lucas brought Situation 9. In the video, actual 911 emergency calls from the 2001 attack provide eerie background noise to placid footage of sleeping airplane passengers and Rankine's resonant voice and measured tempo.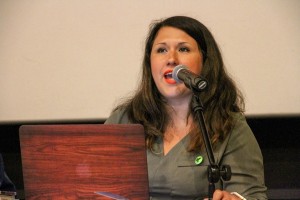 We were happy to have the last minute edition of Vanessa Angelica Villarreal (stepping in for Sarah Vap), who brought a powerful sense of musicality to the panel. Villarreal shifted from binary code to Spanish to English to song as she read her poem "To Actuate," proving that poetry can speak to the soul even the beyond comprehension of a language.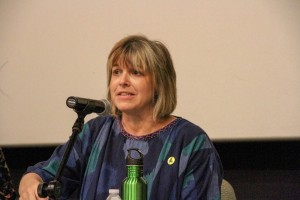 Nan Cohen read her poem "Depth Perception" which uses photography as a metaphor and examines the duplicity of reality. Her more traditional poem rounded out the range of readings, showing that poetry comes in many shapes, sizes, and forms.
This transitioned to a reflective conversation as panelists examined their own poetic history, and how their relationships with their environment and other artists affected how they approach poetry and the many forms it takes and defies. Villarreal discussed growing up around music, which has been one of the biggest influences on her poetry. She defined poetry as "an utterance that cannot be contained by form."
For Lucas, a visual artist, says "image plays into [poetry]." For him, poetry is about motion and movement. Pairing the written or spoken word with a visual embraces the poetic tendency to translate a perceived moment into another form while also pushing poetry's boundaries as a genre. Cohen considered the poet's/writer's anxiety about becoming a commodity, but said that the hybrid form unsettles expectation, keeping writers from fitting into a definable box.
Following the panel, Expo passed out quotes from some of our favorite works of literature (both poems and other genres). We then gave the audience a writing prompt: Translate the excerpt into another genre or write a hybrid piece inspired it. After seven minutes, we heard some excellent readings inspired by Jack Kerouac, Haruki Murakami, and Lidia Yuknavitch.
If you missed SoCalPoFest, we encourage you to try this exercise at home! Here's a prompt:
"The only people for me are the mad ones, the ones who are mad to live, mad to talk, mad to be saved, desirous of everything at the same time, the ones who never yawn or say a commonplace thing, but burn, burn burn like fabulous yellow roman candles exploding like spiders across the stars" – Jack Kerouac, On the Road
Our Bending Boundaries panel marked the last of #ExpoPresents for 2016, as we shift into reading for our annual issue. (Submissions now open!) We thank everyone who came out to SoCal Poetry Fest and our other panels, plays, and events. We look forward to seeing you in our 2017 season!