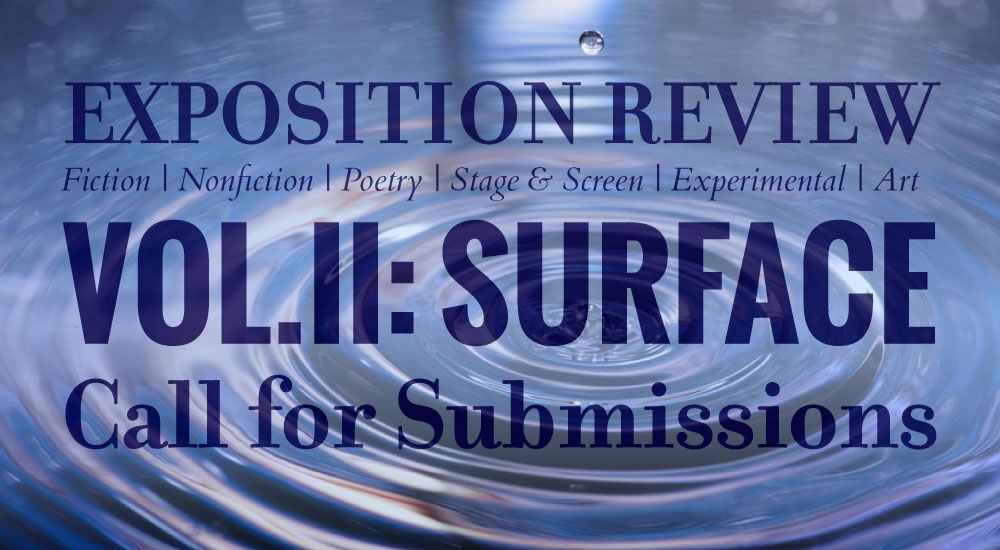 It's that time of year again: submission season. From September 15-December 15, 2016, we'll be accepting submissions our annual issue. Exposition Review accepts narratives in the genres of fiction, nonfiction, poetry, stage & screen, art & photography, comics, and we're excited to announce this year we will now also accept submissions of experimental narratives!
We're also excited to announce the theme for our next issue: "Surface." Read on to learn more about what we're looking for:
"Surface." We love stories that evoke a sensory response. When we think of surface, we think of texture, even synesthesia: multiple meanings packed into a single word. A surface can be a reflection, a witness to the superficial or an unveiling of something new. A surface also changes with your perspective; it's a liminal space between the above and below. One can emerge from the depths, or dive under the surface to discover what greater iceberg lurks below. And then there's surface tension: a delicate thing, and once disturbed, the ripples can spread farther than ever imagined.
So tell us a story about surface. We want stories that transport us, take us through the looking glass. We want fiction and fact and combinations of the two. Tell them in your favorite genre, or bend boundaries and invent a whole new way to tell a story—then submit them to us, for consideration in Vol. II: "Surface." 
Editorial Team
Editors-in-Chief: Jessica June Rowe & Brianna J.L. Smyk
Section Editors:
Fiction Editor: Rebecca Luxton
Nonfiction Editor: David L. Ulin
Poetry & Experimental Narratives Editor: Mellinda Hensley
Stage & Screen Editor: Lauren Gorski
For specific guidelines and more details on our submission process, check out our submission page or submit to us via Submittable: