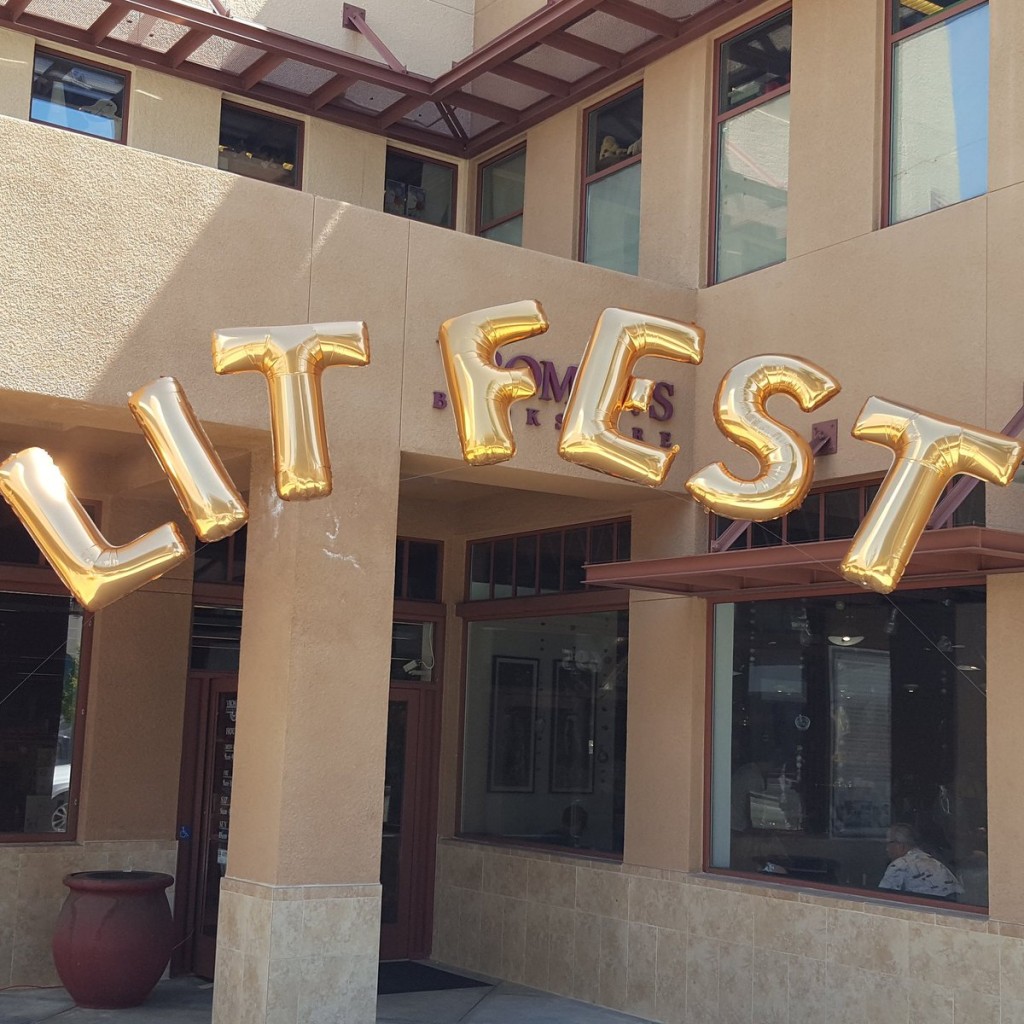 The fifth annual LitFest Pasadena was on June 4, and Exposition Review was delighted to be a part of this celebration of authors, books, and the craft of writing! Kicking off the day with panels on YA writing and science fiction author Octavia Butler, LitFest hosted a full day of events and readings around the Pasadena Playhouse District–including our own panel, A Flash of Inspiration: Micro-narratives in Multi-Genre Writing Workshop.
Moderated by Expo editor Channing Sargent, the conversation started with a simple question: What is flash? Each of our expert panelists had a different perspective: for novelist Janet Fitch, it was about page count (two pages, double spaced to be precise); for poet Sonia Greenfield, it was a matter of compression. Kevin Staniec discussed short form writing from the point of view of a publisher but called flash "a quick or romantic punch to the gut."
The discussion didn't limit itself to defining micro-narratives; it was full of insightful advice for writers looking to break into the genre, including this great quote, "Every story has to start with a place, character, or event. Pick just one," from Judith Freeman (who is also the judge of our June Flash 405 contest)!
To help cement that advice, we replaced the traditional panel Q&A with an interactive flash writing exercise. Using objects (supplied by us or brought from home) as a source of inspiration panelists and audience members all wrote together. The ten minutes were silent except for the scratching of pens and pencils, with writers putting advice into action, turning inspiration into art. At the end, four writers from the audience came up to share their amazing flash work!
While we had to wrap up the panel after an hour, we could have easily continued to conversation as well as shared more work. Fortunately, both Janet Fitch and Judith Freeman have graciously allowed us to share the pieces they wrote during the LitFest workshop on Exposition Review! 
You can find their pieces below:
Dreamsicle by Janet Fitch
Bruno by Judith Freeman
All in all, it was a great day, and we look forward to next year! Check out some of the photos from the event below–particularly our "object inspiration" table. Maybe you'll find something to inspire you, and maybe you'll give Judith Freeman the chance to read it!