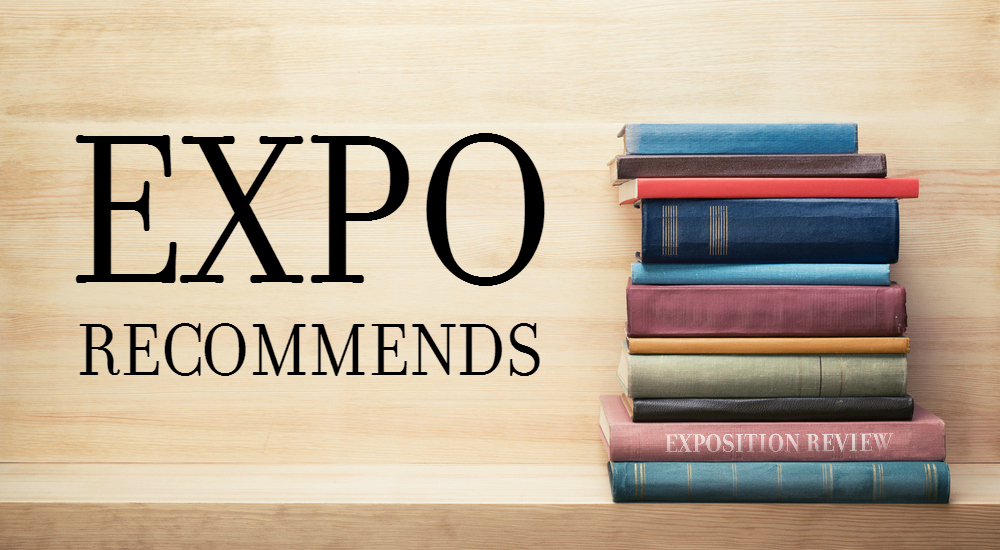 What should I read next? It's a question we all ask ourselves time and again. Even with the countless stories, poems, essays, scripts, art, comics, and films to discover, to fall in love with or to detest, it can be a challenge to choose. Enter Expo Recommends, a curated selection of readings brought to you by the editors of Exposition Review.
Our 2024 annual issue submission season is in high gear. For Vol. IX, our editors chose the theme "POP!," seeking that surprise inherent in a "POP!" and the conflict that arises from it, characters and ideas that burst off the page, in language that crackles and snaps.
Heading into our last few weeks of submissions (our deadline is December 31), we want to give you—our readers, writers, submitters, and community—an extra dose of inspiration. So whether you read Expo Recommends for the recommendations or you want to get a leg up on the competition with a behind-the-scenes look into the preferences of our editorial team, we hope you'll enjoy our "POP!"-inspired Expo Recommends. And when you buy your copies of the books from our Bookshop, Exposition Review gets a cut!
Surrender: 40 Songs, One Story by Bono (nonfiction)
From Fiction Co-Editor Dave Gregory
I can't wait to see how contributors interpret our "POP!" theme because I have so little idea of what it means that the first book that POPPED! into my head was literally, and unoriginally, about a POP! band who once released an album entitled POP!
U2 has never been my favorite band, but they've been one of my favorites for more than forty years! Sure, they fell a little out of favor in the '90s, during their electronic/industrial/experimental phase, but I'd argue they've come up with almost as many brilliant songs since 2000 as they did at their peak in the '80s. I never understood the negative publicity they received for giving away their 2014 Songs of Innocence album free to 500 million iTunes customers. I was thrilled!
This book was a thoroughly captivating read, and I loved the way each chapter was named after a U2 song, telling its story and also relating that piece to the complete puzzle of Bono's singular life as a musician, activist, husband, father, and man of faith. Bono writes with verve, humility, and humor as he presents a fascinating glimpse of himself as someone I've known for so long but, it turns out, I haven't known at all. I read this book with U2 albums playing in the background and it made for a wonderful multimedia experience.
This Was the Decade I Kept Getting Stabbed by John Jodzio (flash fiction)
From Flash Fiction Editor Jessica June Rowe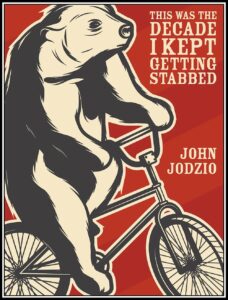 All good flash fiction should have a pop, in my opinion, and I'm excited to really shine a spotlight on it this year. "POP!" implies action, motion, velocity, and invokes stories that race me to the finish line.
These are the types of stories I found in John Jodzio's This Was the Decade I Kept Getting Stabbed. Published by The Cupboard Pamphlet, my favorite press for flash-fiction chapbooks, this collection contains thirteen wild, weird, and irreverent stories about loss and retribution and witty tricksters. Stories include "Lazlo," about one man's feud with a bicycle-stealing bear, and "Cornhole, Bags," about divine justice over a game of cornhole.
Jodzio's writing style is bold but spare; in an interview with Fear No Lit, he mentions "… one of [his] favorite things to do is to take a story that's 1,500 words and try to get it down to 500, slicing away everything unnecessary and still seeing if [he] can still hold plot and character together" (which is an excellent exercise for any flash writer!). This sparsity allows each of Jodzio's stories to cover a lot of complex ground, with just enough room for incisive details and pithy observations that make each story burst out of its vivid unreality and plant itself in uncanny truth.
The Broad and Keith Haring: Art Is for Everybody (art)

From Visual Art Editor Brianna J.L. Smyk
I recently had the pleasure of catching the last few days of Keith Haring: Art Is for Everybody at The Broad in Los Angeles. With a few rooms of the exhibition featuring music from Haring's own collection or dedicated to events that Haring hosted, I was overcome with the significance of Haring's collaborative practice and the way he brought together artists, musicians, and creative community in his personal spheres, as well as how he brought the people of New York together for a collective noticing with his subway murals. The sociopolitical and activist elements in Haring's work—his representation of AIDS and critiques of Reagan-era politics and other current events—are also profound.
Though the Haring exhibition has since closed, there is still a world of pop art to discover on the third-floor galleries at The Broad.
After ascending the cave-like escalator, viewers are greeted by Jeff Koons's "Tulips," though a full room of his work, including his "Michael Jackson and Bubbles" sculpture, can be found deeper in the museum. Moving along, Roy Lichtenstein's iconic Ben-Day dot pieces include his classic comic book works, though his remixes of Matisse (pictured), Monet, Mondrian, Delacroix, Picasso, and more take viewers through a tour of art history and the wit and style with which Lichtenstein turned it on its head. Andy Warhol's iconic "Campbell's Soup Cans," along with "Jackie," "Liz," and "Elvis" are paired with lesser-known, though no-less-impactful news photography and mug-shot works, as well as early works showcasing his career as an illustrator. Robert Rauschenberg and Jasper Johns are perfectly paired, with a bit of Cy Twombly thrown into the mix, with Johns asking if a painting of a flag is a flag and Rauschenberg's "JFK" painting echoing Warhol's "Jackie." Rauschenberg's combines always shine, bring in the found art movement, and blur the line between fine art and the everyday, between painting and sculpture. The selection of pieces invites viewers to wade deeper into the pop art pond and discover a larger span of the artists' oeuvres. Take time to scroll through the gallery above, but there is so much more to experience in-person at the free museum.
The Last Final Girl by Stephen Graham Jones (experimental)
From Co-Editor-in-Chief Annlee Ellingson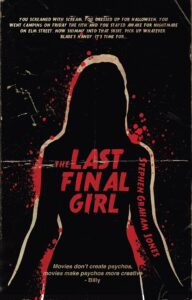 The pop-culture references come fast and furious in The Last Final Girl, Stephen Graham Jones's horror novel—not least to the King of Pop himself, as the serial killer in this meta, ultra-referential slasher wears a Michael Jackson mask and is known as Billie Jean. Our protagonist Lindsay has escaped the murderer once before (rescued by a horse, braless), but she knows it's only a matter of time before he returns, so she assembles a homecoming court of other final girls who have survived their own killers in order to become the titular heroine. Built as it is on the pantheon of slasher flicks, The Last Final Girl pays homage through its form: a shot-by-shot pitch for a self-aware, pop culture-soaked horror movie, but in prose—and some of the goriest stuff I have ever (not) seen. I've never read anything like it.
Bad Bad by Chelsea Minnis (poetry)
From Poetry Editor Anya Maria Johnson
Reading Bad Bad by Chelsea Minnis is kind of like getting popped in the face repeatedly by someone you both admire and are infuriated by. Try it for a good nosebleed.
Love in the Big City by Sang Young Park (fiction)
From Fiction Co-Editor Sam Burt
Sang Young Park's translated debut novel fizzes like a freshly poured soju and tonic glistening under a sticky disco ball. Divided into four parts, it follows postgraduate writer Young as he navigates a string of early relationships, the financial precarity of Seoul's crowded jobs market, recurring body-image issues, and his identity as a gay man in a society that tolerates, but seems reluctant to endorse, sexual difference.
Young's narration is a joy to read, by turns withering, salacious, naive, and nakedly heartfelt. Characteristically, he renders his own HIV status less solemn by naming it "Kylie," as in Minogue, and the singer-songwriter's "All the Lovers" becomes a soundtrack to his nights out and his search for love. Young is out for a good time while still figuring out what that looks like for himself, and as we follow his mistakes and often impulsive choices, we see a young queer man learning life the hard way. His loves are frail and short-lived, popping under the pressure of inarticulable desires and inexperience, but for as long as they last they shimmer and float—and we are reminded not to take such things for granted.
Batman: The Long Halloween written by Jeph Loeb with art by Tim Sale (comics)

From Comics & Film Editor Lauren Gorski
Batman: The Long Halloween is a riveting graphic novel that seamlessly weaves together elements of mystery, noir, and superhero genres. It's a fun read whether you are a longtime fan or a newcomer to comics. Writer Jeph Loeb's gripping storytelling, coupled with Tim Sale's distinctive art style, creates a tense page-turner that showcases Batman's detective work to solve a complex, year-long web of crimes alongside battles against iconic Gotham City villains including Joker, Two-Face, and femme fatale Catwoman.
It's not lost on me, as Expo's Comics & Film Editor, that this work in particular heavily influenced the Christopher Nolan Batman trilogy, and you can see most of that influence in the cream-of-the-superhero-movie-crop The Dark Knight (2008). When thinking about "POP!," I love how the theme can showcase narratives that pack a big punch—and what better outfit for punching than a batsuit.
Burn It Down: Power, Complicity, and a Call for Change in Hollywood by Maureen Ryan (nonfiction)
From Stage & Screen Editor Kes Nave
As we finish out hot labor summer with victorious WGA and SAG-AFTRA negotiations and move into a cleverly named pro-union autumn, Maureen Ryan's exposé on abuse and exploitation in Hollywood reminds us that when the pressure gets too much, the balloon will pop! Things cannot continue as they once were, and creatives will no longer be ignored.
This book is eye-opening to those who might not know the dysfunction behind the scenes of Hollywood. The screenplay and the stageplay are the first, crucial steps in a long development process that can be hellish to many. But why does it have to be? As writers like myself and contributors to Expo are trying to break into/survive the industry, we must work to create new support structures and dismantle a broken system.
Anxious People by Fredrik Backman (fiction)

From Intern Aneri Narayan
Fredrik Backman's Anxious People centers on one "pop" that unites strangers for a lifetime. An apartment viewing-turned-hostage situation brings eight people together and reveals hidden truths. The story moves back and forth between a reluctant police duo interrogating the hostages and the backstories of the characters. Jim and Jack, father and son forced to work together to solve this mystery, are baffled because even though they heard a gunshot and all exits were blocked, the bank robber isn't to be found.
This book screams "POP!" The main mystery centers around a pop—the gunshot. The story emphasizes messiness, humanity, and empathy. It follows many relationships, one of the most impactful being a son and father (aka another kind of "pop"). Jim and Jack have a strained relationship that we get to explore as they dive into the mystery. This book is so funny, heartfelt, and wholesome. The twist at the end is explosive and will leave you pleasantly surprised.
Beau Is Afraid by Ari Aster (film)
From Intern Michael Ahn
Ari Aster's exploration of the mother-and-son relationship is filled with pops of many varieties. On a metaphorical level, Beau, played by Joaquin Phoenix, confines himself to a small bubble created by his all-powerful mother. While he wishes to escape, the anxiety of the unknown and death discourage him from leaving, as the bubble is constantly in danger of popping with every twisted turn. On a more physical level, heads explode, bodies fall to the floor, and all the grotesqueries fit for last month's Halloween season are in Ari Aster's most puzzling, yet most personal masterpiece.
---
Now that you have some good writing inspiration and an insider's look into our editors' tastes, get reading, get writing, and get submitting to Vol. IX "POP!" here.
Disclosure: Exposition Review is an affiliate of Bookshop.org and will earn a commission if you click through the links above to make a purchase.