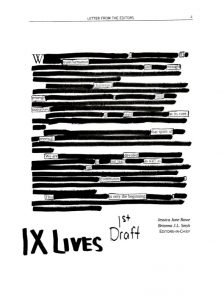 Currently in the throes of putting together our seventh annual issue, "Flux," we can't help but look back at all that's come before. We've been able to do so with fresh eyes over the past few months thanks to the creativity and industry of our intern Rachel Alarcio, who's produced a series of erasure poems based on our past letters from the editors. This project, which we'll be rolling out across our social media channels leading up to the launch of "Flux," got to the heart of our ambitions and aspirations for Expo in a vibrant new form.
Erasure poetry is a form of found poetry created from an existing piece by erasing or blacking out text to reveal a new poem in the words that remain.
Let's hear from Rachel about the Expo erasure poetry project: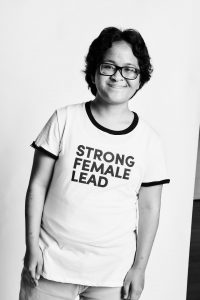 Rachel, we loved reading your versions of our letters from the editors as erasure poems. Where did the idea come from?
Thank you! My project was born from conversations with Poetry Editor CD Eskilson and Visual Arts Editor Brianna J.L. Smyk. We had discussed my desire to explore a more experimental subgenre of poetry and combine that exploration with a more practical social media campaign. I especially wanted to bring that exploration to the Expo community in the time period leading up to the "Flux" launch.
How did you go about crafting them?
It took a few weeks for the process of pruning to produce a series of poems I was proud of. During the first pass at chiseling away at the metaphorical marble block of letters, I took very different approaches to each individual piece. For each, I started by drawing boxes around words and phrases I found particularly striking and erasing the rest. Some letters had many phrases I liked while others had fewer, creating an uneven balance. This led me to box in a lot of phrases that weren't necessary to keep in the end product.
What were some of the challenges you encountered on this project?
Some of my early drafts of these erasure poems were in essence truncated, abbreviated versions of the original pieces with basically the same overall message. When I met with my project mentors, Co-Editors-in-Chief Annlee Ellingson and Mellinda Hensley, we agreed that we wanted this series to be more transformative of the original works. I then set aside the project for a few days in order to clear my head a little. When I read over my pieces for a second pass, I decided that all of the pieces with the exception of the erasure poem for Vol I: "IX Lives" needed to be edited down further.
What were some of the unique techniques you used to make your erasure poems?
I realized that I could erase certain letters on the same line but within different words in order to create new words, so I played around with that method in my second pass at pulling poetry from the letters. I also went back into the project with an ear and an eye for repetition. I saw patterns in the prose on the page and boxed phrases according to the rule of threes, breaking the pattern when necessary. I reread what I had boxed in so far, aloud, and adjusted by adding prepositions out of the letters of other words when necessary. Then I used a chisel-tip black marker to erase the unnecessary words.
Finally, I had another meeting with my mentors and read the pieces aloud. We made minor adjustments based on thematic diversity within the series, then it was ready to print.
What did you learn from this project?
As a poet and reader of Exposition Review, it was an enriching experience to dive into a familiar body of work not written with the intent to be particularly poetic and to extract rhythm and style from it. I hope you all enjoy this series as much as I enjoyed creating it. Here's to the past six volumes and six years of Expo, as well as many more!
We are thrilled to present this erasure poetry series by Rachel. Stay tuned to our Instagram, Twitter, and Facebook as we unveil the final poems over the upcoming months.