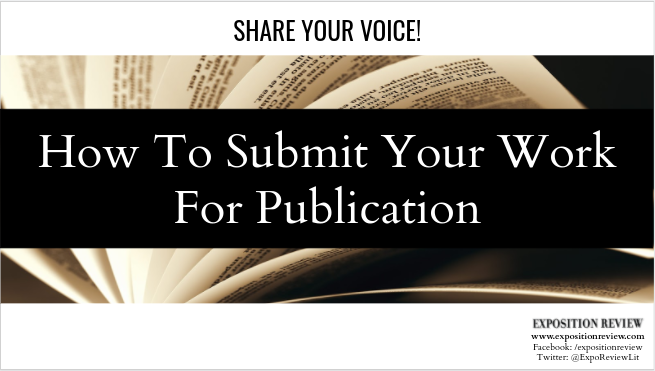 When Exposition Review faced the option of potentially cancelling our annual WriteGirl "Share Your Voice!" workshop due to COVID-19 concerns, we decided instead to make the presentation virtual and host it entirely online via Zoom thanks to WriteGirl. The workshop started on Sunday morning, March 15, and taught mentees and alumni of WriteGirl about the process of finding literary journals that fit their voice, polishing their submission materials, and submitting.
Though it was a different way of doing things, the change produced several positives — mentees and alumni (and even Expo editors!) who weren't local to Los Angeles could join in, we could use more interactive aspects of Zoom like individual breakout rooms and polls, and editors were able to answer questions in real time.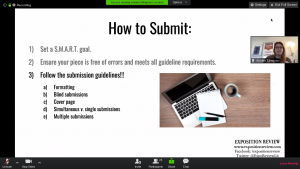 We kicked off with some time for a free write or reading before starting off the presentation. Then, once we knew everyone had joined, our Nonfiction Editor Annlee Ellingson introduced the team. We had Krista Nave with us, a WriteGirl alumni and our intern for Vol. V, as well as Editors-in-Chief Lauren Gorski and Mellinda Hensley, Fiction Editor Jessica June Rowe, Poetry Editor CD Eskilson, and Stage & Screen Editor Laura Rensing, who was able to join from Chicago.
After introductions, we dove in! Spanning topics from how to discover the best literary journals for your work and into the p's and q's of cover letters (spoiler alert: keep it simple), our editors shared their best advice.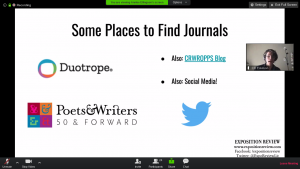 What were some unique changes to our workshops in the past? For one, we wanted to give participants the ability to see the publishing process from the editors' point of view. Before our workshop, we sent around three unique flash pieces for everyone to read. About halfway through the workshop, we split everyone into groups to choose one piece between three pieces that would ultimately be published. Even though everyone had different answers as to what piece would ultimately be chosen, they had to agree as a group. By the end, it was clear that everyone had subjective reasons for loving one piece over another, and just because your work is rejected by one team of editors doesn't mean it won't find a home somewhere else. Next, we touched on how to deal with rejection (something we're all familiar with) and how to promote your work once you are published.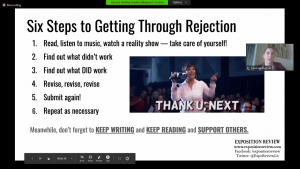 By the end, our WriteGirls were encouraged to submit to Exposition Review with the chance of being published in the forthcoming Vol. V: "Act/Break" issue. We are so excited to be able to publish emerging voices and can't wait to share later in Spring our final issue!
WriteGirl is a Los Angeles-based creative writing and mentoring organization that spotlights the power of a girl and her pen. WriteGirl is a thriving community with 200 volunteer women writers serving more than 500 girls annually through one-on-one mentoring from other woman writers and monthly creative writing workshops. Workshops and mentoring sessions explore poetry, fiction, creative non-fiction, songwriting, journalism, screenwriting, playwriting, persuasive writing, journal writing, editing and more.
You can read more about WriteGirl here.