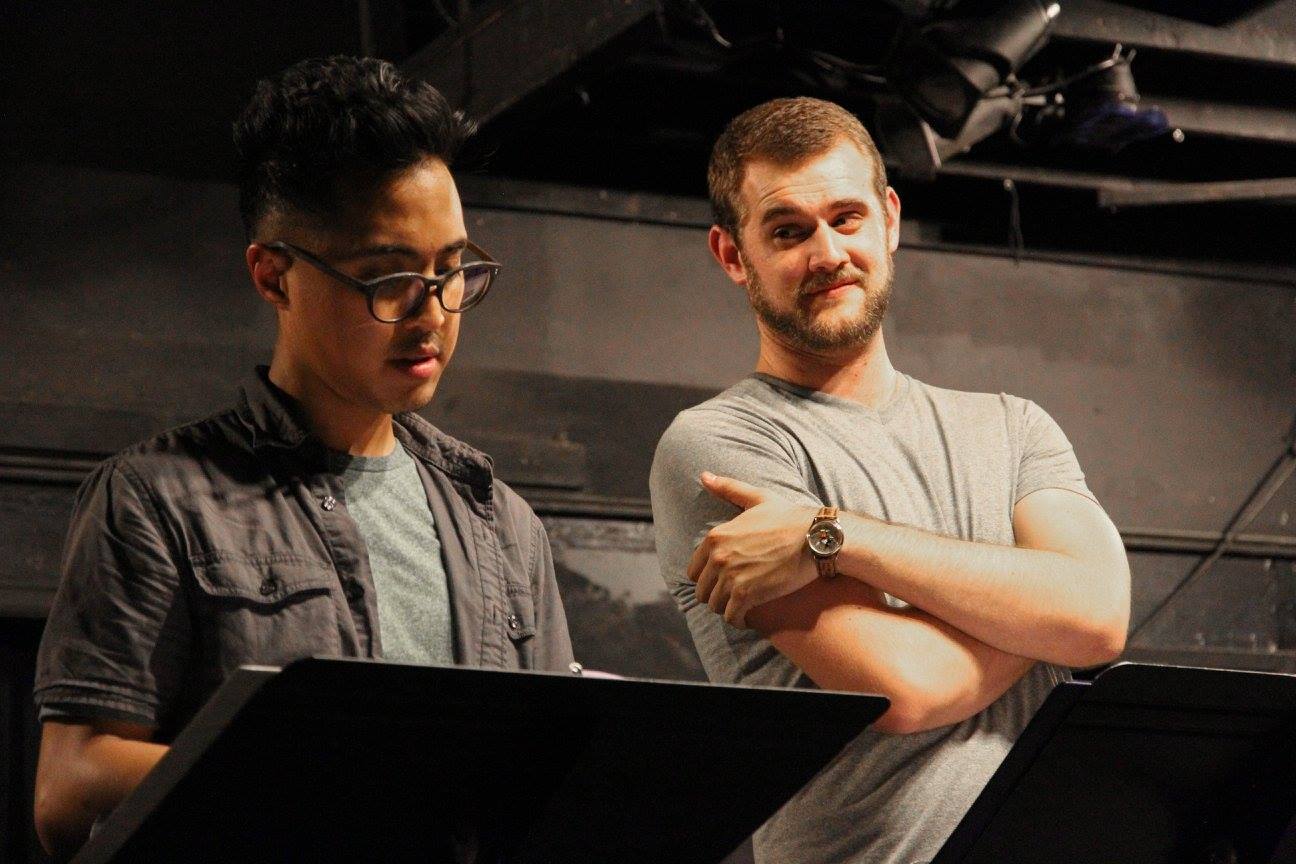 Last weekend Exposition Review had the incredible honor of presenting a staged reading of Jeffrey Lo's latest play, Waiting for Next. It took months of hard work to prepare for this special one-night-only #ExpoPresents event, so different from our signature panel/micro-workshop events, but we were thrilled to be able to defy the traditional role of a literary journal and help one of our contributors showcase and further develop his work.
We had a packed house Saturday night, August 27, at the Chromolume Theatre for the Los Angeles premiere of Lo's play as well as an amazing post-performance Q&A with Jeffrey and a reception with the cast, catered by our own Annlee Ellingson!
For our editors and readers in the audience, the opening scene of Waiting for Next was familiar: we were lucky enough to publish it as a short play in our IX Lives issue under the title Where You're From. In the scene, two twelve-year-old boys spark a friendship while waiting for their parents in their middle school parking lot. Waiting For Next picks up where Where You're From leaves off, and in it, the story of Frank, Marcus, and their lifelong friendship unfolds.
Our Saturday performance was a staged reading: script-in-hand, no costumes, sets, or props. Still, the play was captivating. This was not only due to Jeffrey Lo's fantastic writing, but also with the spot-on performances by actors Wes Gabrillo, who plays Frank, and Max Tachis, who plays Marcus. It's easy to see why–as Jeffrey revealed in a post-performance Q&A with Expo's Stage & Screen Editor Lauren Gorski–he wrote the play with these two actors and close friends in mind.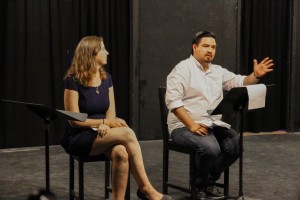 It was Lo's first time writing for specific actors—a move he confessed was partially an excuse to "get a theater to pay us to hang out." The choice obviously paid off, as being familiar with the actors and able to work with them during the writing process helped Waiting For Next become one of his fastest first drafts ever. In one of the first public readings of Where You're From, Jeffrey said that the dialogue sounded exactly like how he'd imagined it in his head—even with only a few hours of rehearsal time.
For the audience, this translates to a quick and clear chemistry between Frank and Marcus that pulls them through the play, fascinated by the ups and downs of the character's lives. Jeffrey's goal was "finding a way to make everyday people feel interesting…to connect," and with Waiting For Next, he's done just that.
Armed with the comments and feedback from Saturday's reading, Jeffrey plans to continue to revise this already-exceptional narrative. Until then, we'll all be patiently waiting for next (draft)!
Stay tuned for more highlights from the evening and a video of the complete Q&A with Jeffrey Lo COMING SOON!
—
Photos © 2016 Annlee Ellingson; © 2016 Brianna J.L. Smyk