by Erika Eckart
1st Place Winner – Flash 405, April 2022: "Escape"
Prose Poetry
---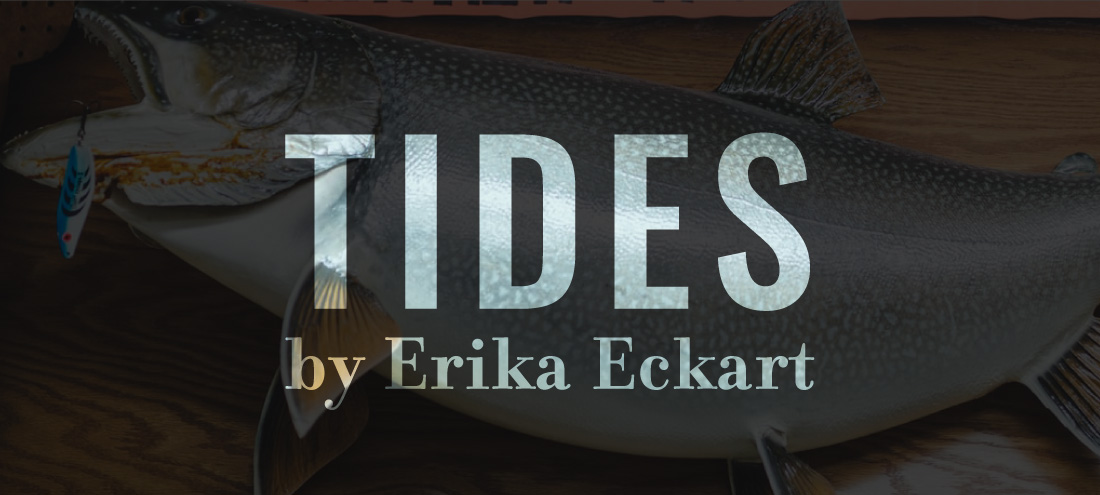 On my one childhood trip to Florida, I only glimpsed the ocean out the car window as we drove from dive bar to dive bar, sheltering from the intense sun in the nearly night of dark wood and tinted windows. And they were mostly the same as the bars my dad took me to back home, except these walls were covered in embalmed fish, pearly blue and silver, some giant and curved, some with teeth and long snouts, some with skin glimmering with iridescence even in lighting like the bottom of the deep sea. They were trapped forever with mouths agape as if about to eat the most glorious meal, but of course we know how that went. I sipped Shirley Temples, looking at leather-skinned men with a bottle-a-day habit. The men, like my father, were trapped too in a moment of rapture when they were caught, shackled to this place, the daily twenty-four pack, which keeps them all shielding their eyes when the door opens and lets the light remind them who they are, catches glimmers of who they might have been. I could smell the sea from the parking lots, fish and salt and secrets. I never got there, so I didn't learn until I was an adult what it sounded like to be engulfed by its calming wall of sound, or that every day when the sea bulges toward the moon's gravity, the water pulls back like a blanket exposing seaweed, fish rent apart, old habitats of fleshy creatures on the saturated sand, a cleansing purge. Instead of the rhythms of the seas, I learned about the men's dark parts: their ex-wives, the kids who don't call, the revoked license to practice medicine, the mother who left them, the bartender's keen awareness of when one of them was just about to tip from drunk to wasted, as he looked from parent to child to car keys, before doling out a rum-less coke. I learned my father would just go to the next bar, the liquor store—he wasn't going to let a couple of kids get in the way, this was vacation after all. This dark knowledge created a swell in me, full of rotten husks, attachments rent apart, bits of glimmering skin. Maybe I can mimic the sea, control when the dark parts leak out with a rhythm of release, tame it with a moon-based cycle like blood, werewolves, and tides.

---
Judge's Comments:
I loved how the author explores "escape" in this piece using time—from a literal escape of a childhood vacation, to seeing how men like the narrator's father become trapped in alcoholism, to growing up and realizing the narrator wants to escape and be different from the narrator's father. Although it is somber in tone, it also ends hopefully, and I enjoyed how the author used oceanic imagery to demonstrate a parallel with the narrator's own life.
Erika Eckart is the author of the tyranny of heirlooms, a chapbook of interconnected prose poems (Sundress Publications, 2018). Her writing has appeared in Double Room, Agni, Quarter After Eight, Quick Fiction, Nano Fiction, Quiddity, and elsewhere. She is a high school English teacher in Oak Park, Illinois, where she lives with her husband and two children.
Photo Credit: Stephen Andrews