by Eva Recinos
1st Place Winner – Flash 405, August 2022: "Burn"
Experimental
---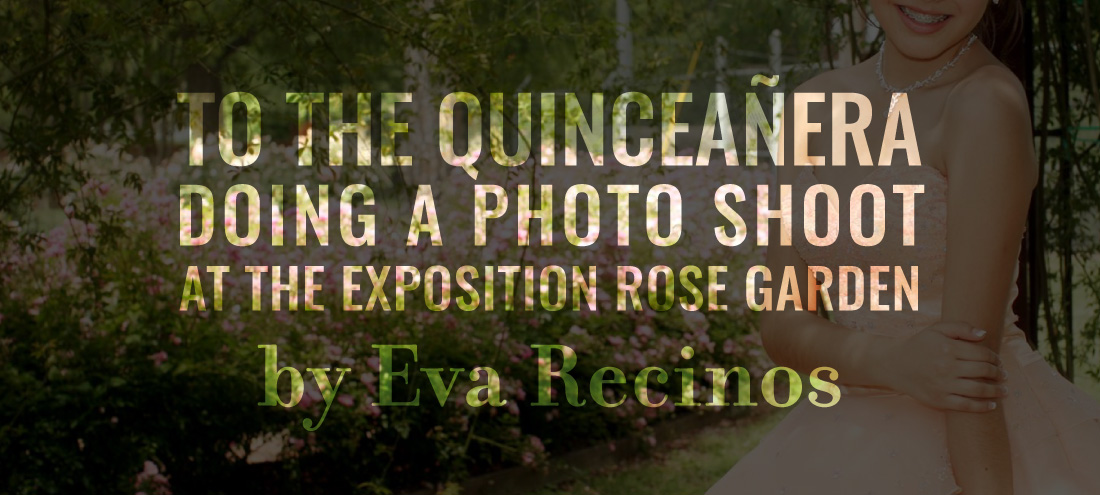 You smile for the camera, adjusting the tiara that sparkles in the sun. Not even the screams of kids or the staccato of skateboards hitting concrete can break your concentration, your practiced pose. At the party, you'll exchange your sneakers for heels, on a dance floor in front of all the guests. Because you're a young lady now, sophisticated in stilettos. The DJ's voice booms through your chest, the multicolored dance lights flutter across your face. You teeter in those heels across the floor to slice your cake, and hug all your tias and tios.
Be rebellious, quinceañera.
Stomp through your high school's hallways wearing the black Dr. Martens you saved up for. When your chambelan spins you during the vals, lock eyes with your real crush, as she watches you from across the room. At the end of the party, when you pull bobby pin after bobby pin out of your stiff hair, repeat Toni Morrison's words: "You are your best thing."
Be selfish, quinceañera.
Choose yourself, over and over again. Don't empty yourself out for others. When you start to hear "you've gained weight" or "you're so skinny"
or "you're so fat" or "are you sure you want to wear that out?"
or "girls who wear that are asking for trouble," buy bigger hoop earrings, sharpen your nails, chop off your hair, burn your gaze right back into theirs.
Be rude, quinceañera.
When a boy at school says, "lift up your skirt" with a smirk, tell him to go fuck himself. Do what I didn't do, so many years ago. When you come back to this rose garden as a twenty-something-year-old, and a man sits next to you, asking, "hey beautiful, you all alone?" remember you don't owe him anything. Walk away. Tuck your kindness back inside for someone else.
Talk back to the chatter about your body and your career and your relationships. Turn the volume down on the noise inside your own mind, too. Take a few crumpled dollars from your purse and buy your favorite childhood paleta from the vendor nearby. Slowly sip your coffee on the balcony. Press flowers into your favorite novels.
Cherish the things no one can take from you.
---
Judge's Comments:
I love how this writer takes the concept of "burn" entirely as metaphor here—there's the burn of youth, of regret. The way the speaker addresses the girl celebrating her quinceañera, but also themself at that age is so powerful.
Eva Recinos is an arts and culture journalist and nonfiction writer based in Los Angeles. Her reviews, features, and profiles have been featured in the Los Angeles Times, The Guardian, KCET, Hyperallergic, and more. Her essays have appeared in publications such as PANK, Blood Orange Review, Air/Light, and Electric Literature. She is the creator of Notes from Eva, a free monthly newsletter for creatives.