by Janna Wagner
Honorable Mention – Flash 405, February 2023: "Tacky"
Nonfiction
---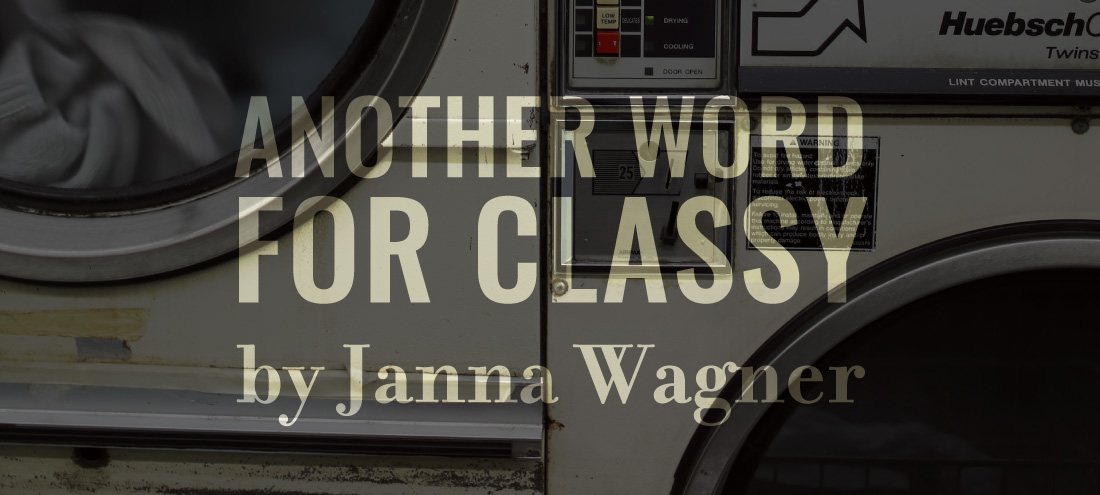 Tacky. The way I say, I beg for no man, but do it anyway: on my knees, looking up, painting with lipstick.
Tacky. The way that didn't work out, so I get up and go out and drink up and, in the morning, saunter a walk of shame from the boat harbor, clanging up the gangplank at high tide, loud in fishnets and Xtratufs.
Tacky. The way my hair was sticky and now has dried like frozen ocean. The way I put on my green Carhartt hat, and arrange my false lashes with my thumb, and order bacon at noon in the diner and get a to-go cup for my third coffee refill.
Tacky. The way I need a shower. The way I don't have running water but it's ok because my "might need it" stuff is always in my basket: truck perfume, Dr. Bronner's, contact solution, red and pink lipstick, corset. The way I pull into the Washboard, the rusted truck bed heaped with frozen clothes, recycling, water jugs, trash. The way this is a triple stop: laundry, water, shower.
Tacky. The way I'm 34 and single again, crawling up the loft stairs with Ben & Jerry's, the way I eat to the bottom of the pint. Cold tongue, warm cheeks, swiping sorrow. Right on Ben. Left on Jerry. The way it takes fifteen minutes to swipe through Homer, Alaska: too many fishermen already caught, released. The way I say, I'm recently single. Looking for fun. The way I don't say, I'm everything. Looking for love.
Tacky. The way I pee by the porch after ice cream because it's dark and I live in a dry cabin and keep company with owls and the outhouse is far. The way I am an unruly red-toed swamp witch, making wishes over hushed snowy spruce, asking the moon and Raven and the goddess for a great love to keep chickens and gardens with. The way I burn a cigarette and incant a dream.
Tacky. The way I ought to stay home tonight with the dog, but I put on eyeliner and leather because it's Taco Tuesday at the Down East Saloon and any moment my life might change. I might meet a pair of gentle eyes and feel my heartbeat crash on the shore, pulled again by the tides.
Tacky. Another word for classy. Another word for brave. Another word for hope.
---
Judge's Comments:
This series of vignettes explores and reclaims the author's tackiness in an exploration of heartbreak and the desire to be loved.
Janna Wagner is a first-year MFA student at Pacific Lutheran University's Rainier Writing Workshop. She writes from her dry cabin at the end of the road in Homer, Alaska, and works as a nurse for her day job. Her writing has been featured in Quibble and The Ana and is forthcoming in INK Babies Literary Magazine and Yellow Arrow Journal.
Photo Credit: Bianca Jordan