2nd Place Winner – Flash 405, August 2022: "Burn"
Prose Poetry
---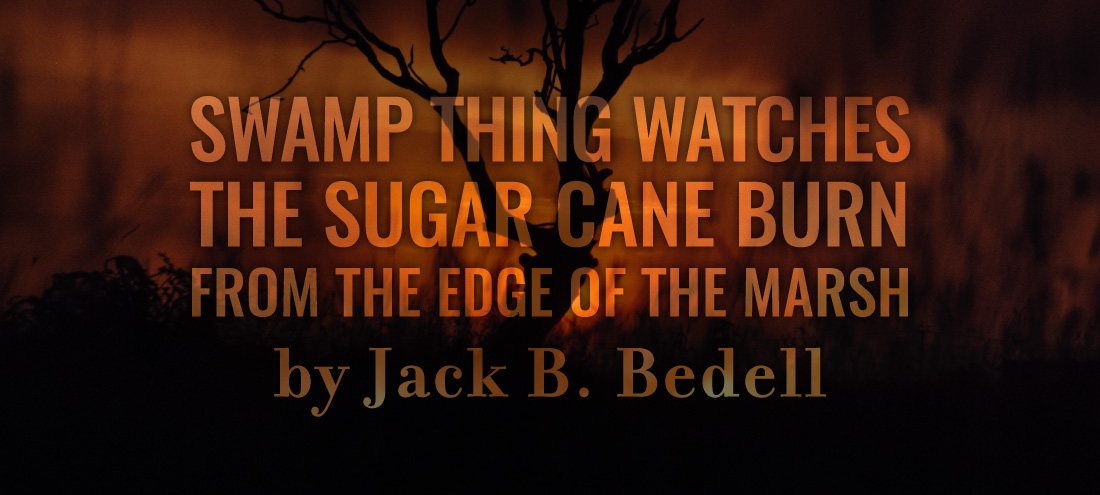 I always feel the flames growing before any glow climbs over the cane fields, like an itch in my throat that turns into a moan. Then it's just seconds until the whole horizon line goes to gold and there's nothing to do but watch it spread. Even now, my soul tells me to run toward fresh air, same as the rabbits and coons living in those fields. Even all these years after the henchmen torched my lab and left me like this, my soul hasn't learned that running only benefits the men waiting with their rifles at the edge of the blaze. There's no reason to hurry toward that. Much better to hunker down for the singe, to realize there can be no reaping without the flames. Then do whatever you have to do to be the reaper and not the cane.

---
Judge's Comments:
In this prose poem, the "burn" is a literal thing. I love how the writer takes one of my favorite comic book characters and makes him something more human. Such a tender touch, showing us the small moments in this large character's life.
Jack B. Bedell is Professor of English and Coordinator of Creative Writing at Southeastern Louisiana University where he also edits Louisiana Literature and directs the Louisiana Literature Press. Jack's work has appeared in HAD, Heavy Feather Review, Pidgeonholes, The Shore, Moist Poetry Journal, Okay Donkey, EcoTheo Review, The Hopper, Terrain, and other journals. His latest collection is Against the Woods' Dark Trunks (Mercer University Press, 2022). He served as Louisiana Poet Laureate 2017–2019.
Photo Credit: Zoltan Tasi