by Olivia Lloyd
Honorable Mention – Flash 405, June 2020: "International Travel"
Poetry
---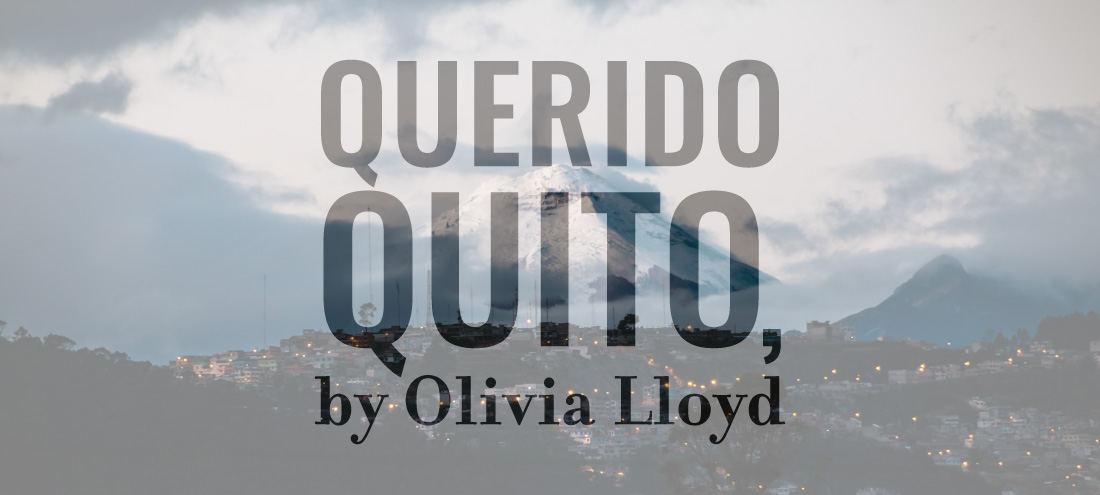 At night I wander your cathedrals and half-lit streets, holy ghosts whispering in my hair. My soul ebbs and flows with the undulation of cobblestone paths leading through arches, which are just doors that never close. Your rains bring the taste of Cotopaxi snow, like agua dulce y azúcar yamor, like Kichwa, like Spanish, like home. I know by the staccato heartbeat pulsing in my wrists and the soft skin at my throat: this is love.

---
Judge's Comments:
Querido Quito, has the depth, flow, and feel of a spontaneous poem composed on the streets of Quito, in a leather-bound journal carried by the author for exactly this purpose. Words like "soul," "home," and "love," show us the powerful connection the author feels. The use of foreign words hints at the knowledge the traveler has gained by the visit. The affection for the city is palpable and the poem ends on such an incredible note. Imagine how potent the wonder of a place must be for someone to feel love pulsing through their veins as they walk its streets. Although I visited Quito with a camera, rather than a notebook, I sense the author and I, on our separate visits, captured many of the same moods and essences of this singular city.
Olivia Lloyd is an undergraduate student studying journalism and English at Northwestern University in Evanston, Illinois. She hails from South Florida and is currently working on her debut novel. She has received an honorable mention for a short story from Glimmer Train Press as well as several national and regional awards from the Scholastic Art and Writing competition.
Photo credit: César Viteri