by Maylin Tu
2nd Place – Flash 405, August 2019: "Underneath the Words"
Nonfiction
---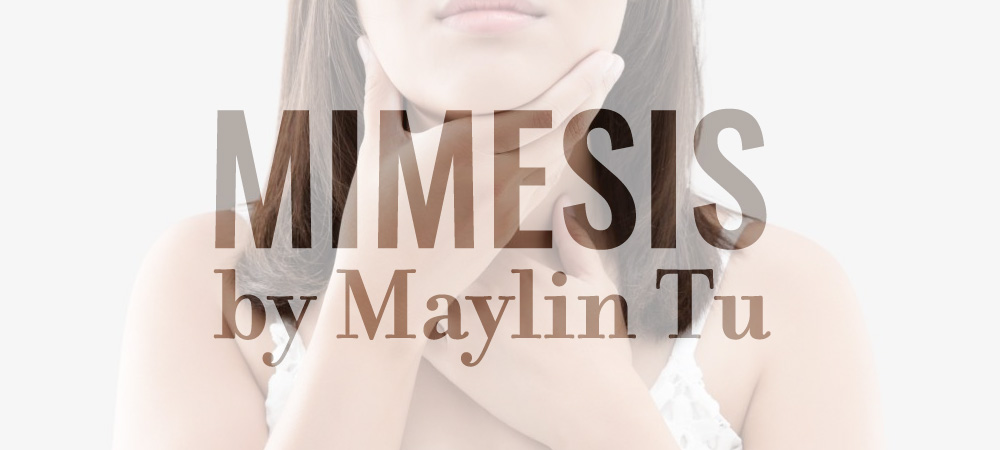 I have decided to become my father, to put on his body like a second skin.
I practice rolling my head back and forth around on my neck, like a bobblehead. I put my hands on my hips and shake one finger up and down in front of me. My face tightens into an exaggerated grimace as my finger picks up speed.
I lie in bed on my stomach, face turned to one side, eyes closed. I pretend to be asleep. I extend one arm out and flap my hand like I'm hailing a cab. I beat it through the air in an insistent rhythm, going and going, on and on forever. My eyes stay closed. I wait for five-year-old me, six-year-old me, seven-year-old me to massage my fingers one by one, to dig thumbs into the fleshy part of my palm. I wait for a very long time.
I try on his voice: "Your good looks come from ME, from ME, from ME, from ME, from ME."
I jab my finger at my chest with emphasis.
I grab my face, one hand under my chin, one hand gripping the top of my head, and suck on my cheek, covering it with a sloppy wetness I'm too afraid to wipe off, saliva slowly drying.
I grab my face, one hand gripping underneath my chin, holding my head still. I narrow my eyes and lean in, so close I can see every flaw, every imperfection. Is that makeup? Is that a pimple? Is that a wrinkle?
"I'll have no problem marrying you out," I say, in Chinese. "Mei wen ti ba ni jia chu qu."
I grab the flesh at my waist with both hands.
I squeeze my waist compulsively, repetitively, fingers reveling in soft flesh.
I hold out my arms in an embrace, body rod-straight, rigid. My arms bend stiffly at the elbows as I beat the air with my palm, patting my back.
"Why would you say I don't love you? Of course I love you. Of course." My hand beats at the air. "I love you, I love you, I love you, I love you, I love you."

---
Judge's Comments:
This piece is transformation. This piece is masks. I love how this piece speaks to the ways that underneath the skin and voice and faces we wear, that there is still space for us to question, to squirm, to "dig thumbs into the fleshy part" between our exterior actions and our interior personhood. I love how this piece speaks to the ways that different generations within families weave wrinkles and pimples into these uncomfortable costumes, cast masks with "exaggerated grimace[s]" of patriarchy and cultural expectations. As a Chinese-American, I identified so much with this piece; I too tried on the taut expressions of the narrator's father-mask, the father's boastful booming voice, the "rod-straight" arms squeezing someone in a rigid embrace and the pain of expressing warmth without the pinch of criticism to punctuate the hug. This piece speaks so beautifully and powerfully to the invisibilities woven into cultural expressions of caring, (which some call love), within families. I loved the fearlessness of the narrator to don their father's costume, and to write into this fractured and dynamic relationship.
Maylin Tu grew up in Maine, Beijing and North Carolina (in that order) and currently lives in Los Angeles. She writes about race, identity, hybridity, religion, family, and pop culture.