by Evan McMurry
1st Place – Flash 405, February 2018: "Greed"
Fiction
---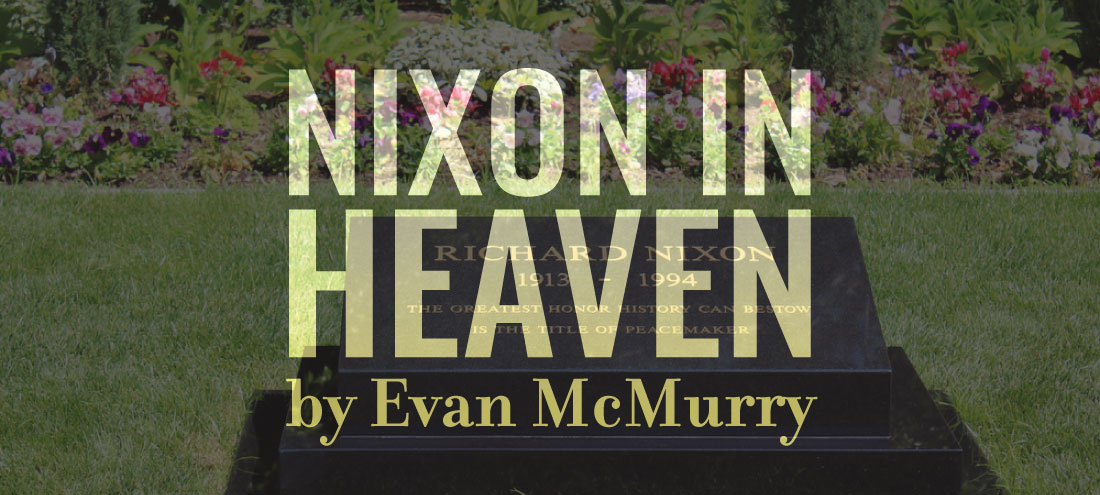 Her mother claimed she had once run into Richard Nixon at a white-tablecloth restaurant in San Clemente. Mimed a rocks glass to her mouth. "Sloppered!" A word she and her poker friends had invented. "Awful for Pat." Whisper-level: "Not her real name, you know. It's Thelma."
In college he was a villain. Her boyfriend ran down their dorm hall carrying a rolled-up rug an exchange student had brought with him from Ankara. "This is the carpet Nixon used to carpet bomb Cambodia!"
In grad school, a shift. "Only Richard Milhous Nixon could have gone to China," one of her professors said, "is the hoary cliché. Like most clichés, it admits this aggravating kernel of truth—"
By the time she landed at a think tank he was royalty. Her mother by then was dying. She flew home to central California to find her mother's frail body pinned by a soft blanket. "Oh, the son of a bitch," she cried, eyes aimed upward. "Sloppered when I saw him. Don't blame him, after all he did. I feel for Pat—not her real name!"
"It's Thelma," she said.
"Imagine that? First lady of the United States and nobody ever even knew your name. Can't wait to go to heaven and tell that man what for."
She had no idea her mother believed in heaven. Did Nixon? Did the people he bombed? Those napalmed children?
"I. Don't. Know." Her fiancé struck the steering wheel on the drive home to Bethesda from another ruined dinner party as she tried not to puke in the passenger seat. "Why, why, why, why do you always bring this up—"
He didn't work out. Awkward texts to her friends, excuses to remaining family members when she arrived alone to the funeral. Her mother's headstone: WIFE AND MOTHER. Bullshit. She was up in heaven, sober Nixon collared against a white wall, her mother seizing the silk fabric he'd fled Whittier for. "Listen here, you, you—"
In the old photos with his family you could see that whooped-dog terror in his eyes that life is so unfair not even death will end it.

---
Judge's Comments:
While I anticipated that at least one author would touch on the idea of political greed, I wasn't expecting the piece that did so to be about… Nixon! This flash is an emotional and rocky ride through the narrator's life as seen through the public's perception of Richard Nixon—and her mother's. Engaging from the first word, the sparse, hard-hitting language makes this
Evan McMurry fiction has appeared in more than one-dozen journals, including Post Road, Euphony, Arcturus, Oddville Press, Palaver, Mulberry Fork Review, and more. His story "Nothing Kinky" won the New Millennium Fiction Prize, and his story "The Fall of Rabbi Gold" was selected as a finalist for the Al-Simāk Award for Fiction from the Chicago Review of Books. He is a graduate of Reed College and received his MFA from Texas State University-San Marcos.