Frances Stark (b. 1967) is a Los-Angeles based artist and writer. She received her MFA from Art Center College of Art and Design in Pasadena, and her 2015 solo exhibitions included UH-OH: Frances Stark 1991-2015, a survey at The Hammer Museum in Los Angeles; Frances Stark: Intimism at the Art Institute of Chicago; and Sorry for the Wait at Greengrassi, London. Her works combine and often collage text and imagery and address the issues that shape our society such as literature, language, and communication; what it means to be an artist; celebrity; identity; and culture.
Stark, a former associate professor in University of Southern California's Roski School of Fine Art, resigned from her tenured position at USC in December 2014, only a few months before the exodus of the entire MFA class of 2016, also known as the "USC Seven." With the troubling state of the MFA program at USC, and with the Master of Professional Writing Program—the one that gave birth to Exposition Review and its community of multi-genre writers—in its final semester after being terminated by the university, we are left to ask: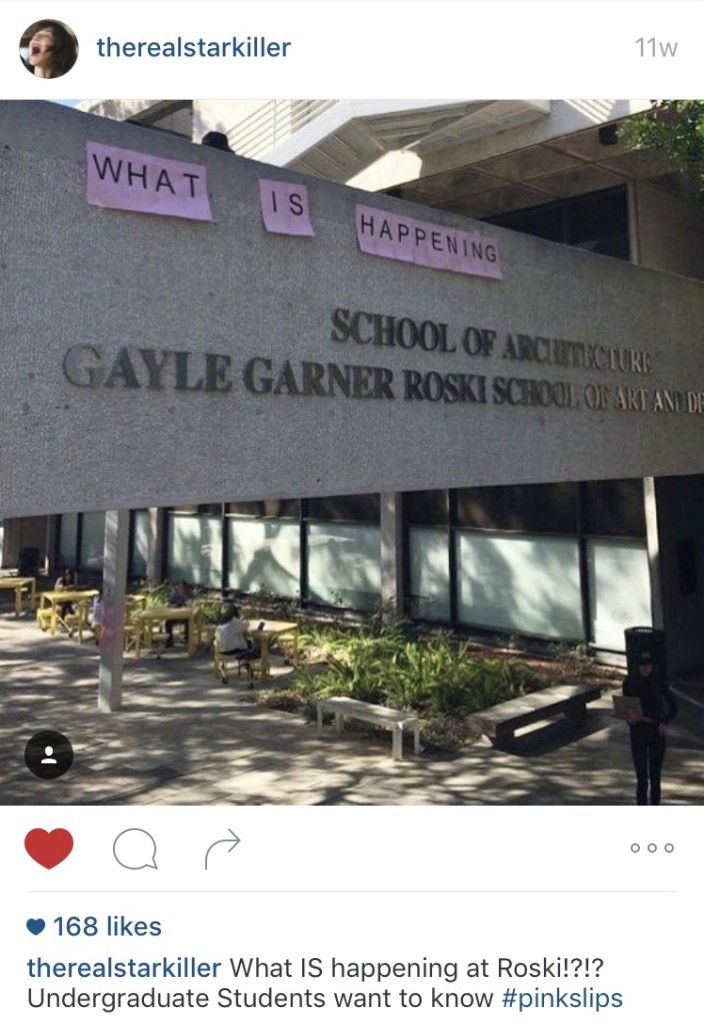 @therealstarkiller post
We ask not only what is happening at Roski and at USC but also in universities across the country. In this curated selection of Frances Stark's work, we seek to spark and encourage discourse about what the humanities mean to the university and what they mean to our society: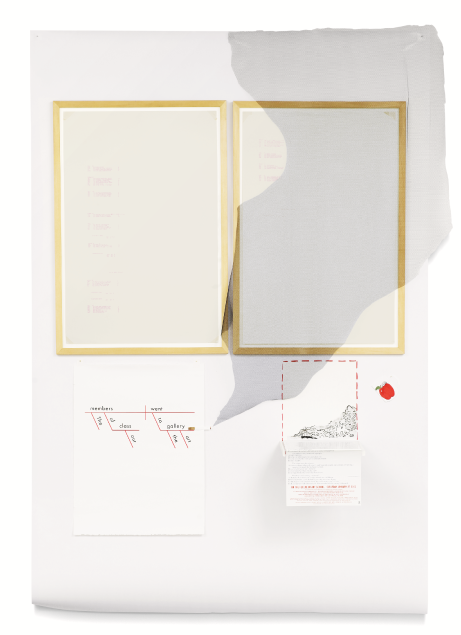 Memento Mori 1, 2013. Mixed media, 96 x 60 inches. Collection of the artist
---
 In this work from Stark's MFA show, the artist traced T.S. Eliot's poem of the same title along with the annotations, exactly as she found them in a used book.
The Love Song of J. Alfred Prufrock, 1993. Carbon transfer on paper, Five pieces, 23 x 34 3/4 inches each. The Museum of Modern Art, New York. Purchased with funds provided by The Judith Rothschild Foundation
---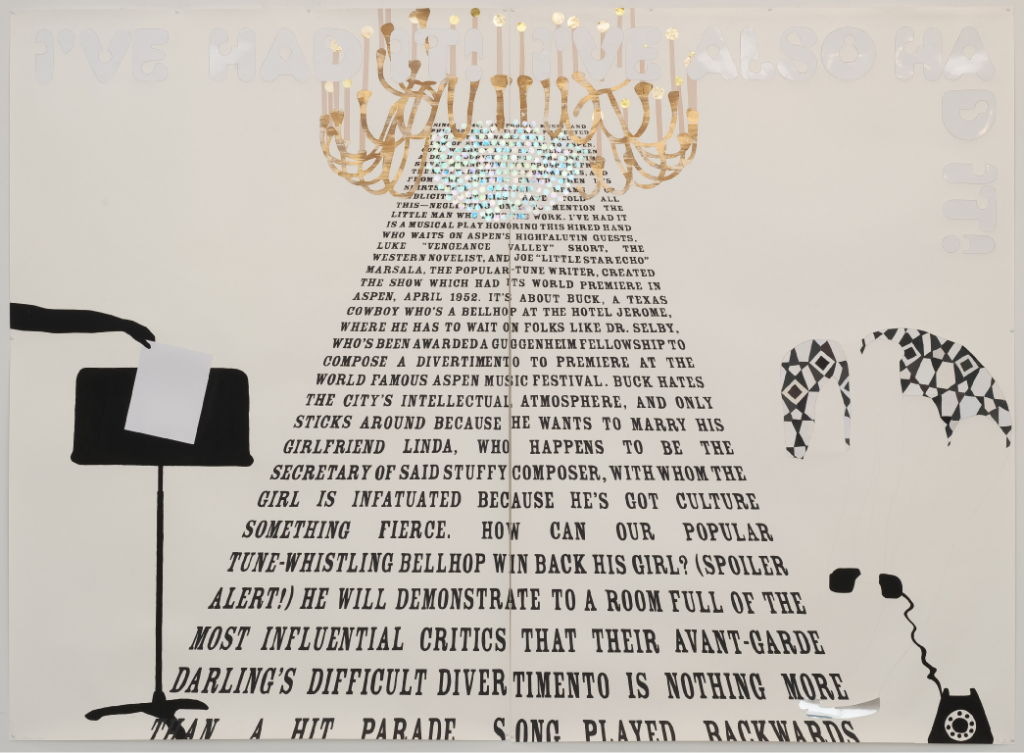 Promotional material for "I've Had it! And I've Also Had It!" (Spoiler Alert), 2010. Paint, paillettes, and paper on paper, diptych, 87 1/2 x 60 inches each. Courtesy of the artist and Marc Foxx Gallery, Los Angeles
---
"The marginalia or the text written down in the margin was like a bird perching on that thing, on that sentence, or something. And so when you mark up a book, you're leaving your little trail of where to go back reread. And so I started putting birds in like they were perching on thoughts…You have this complicated phrase that is a deep thing to wrap your head around, but the birds give you that moment [of apprehension]…They also represent the voice, and they represent for Emily Dickinson the poet, and they also represent, generically freedom…I was fine with just the text but most people couldn't enter it…"- Frances Stark on the use of birds in her work, as said to Tyler Green in The Modern Art Notes Podcast, No. 215.
Text reads: "The torment of aspiration, of interminable apprenticeship or, perhaps, the torment of trying to suppress oneself, exceeding one's own strength and the resulting torment of general and particular impotence."
General and Particular Impotence, 2003. Carbon Transfer and collage paper, 59 x 39 inches. Courtesy of di Rosa collection, Napa. Photo: Israel Valencia
---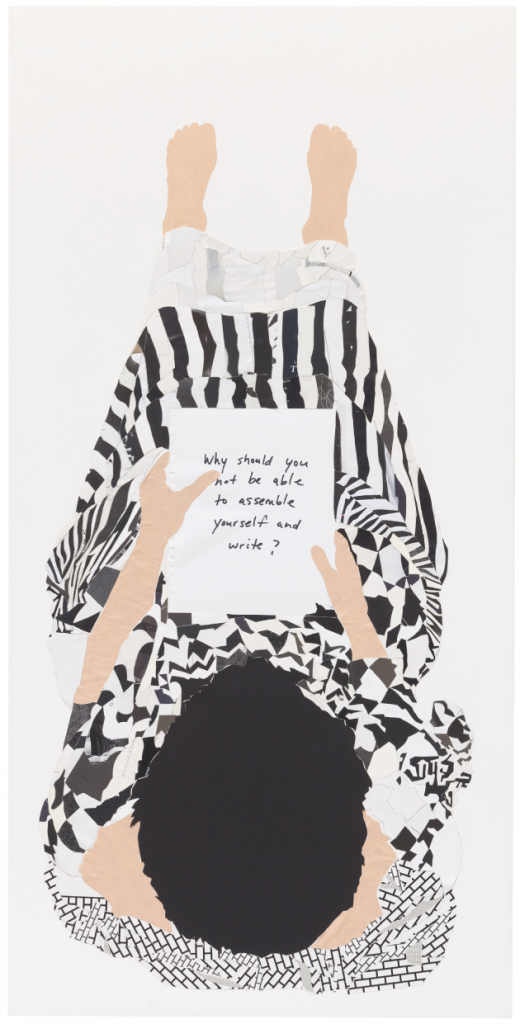 The text in this piece is excerpted from an email written to Stark by an editor friend when Stark, because of other commitments and for creative and financial reasons, shifted her focus from writing to visual arts. 
Why should you not be able to assemble yourself and write?, 2008. Rice paper, paper, and ink on gessoed canvas panel, 55 x 34 inches. Hammer Museum, Los Angeles. Purchase
---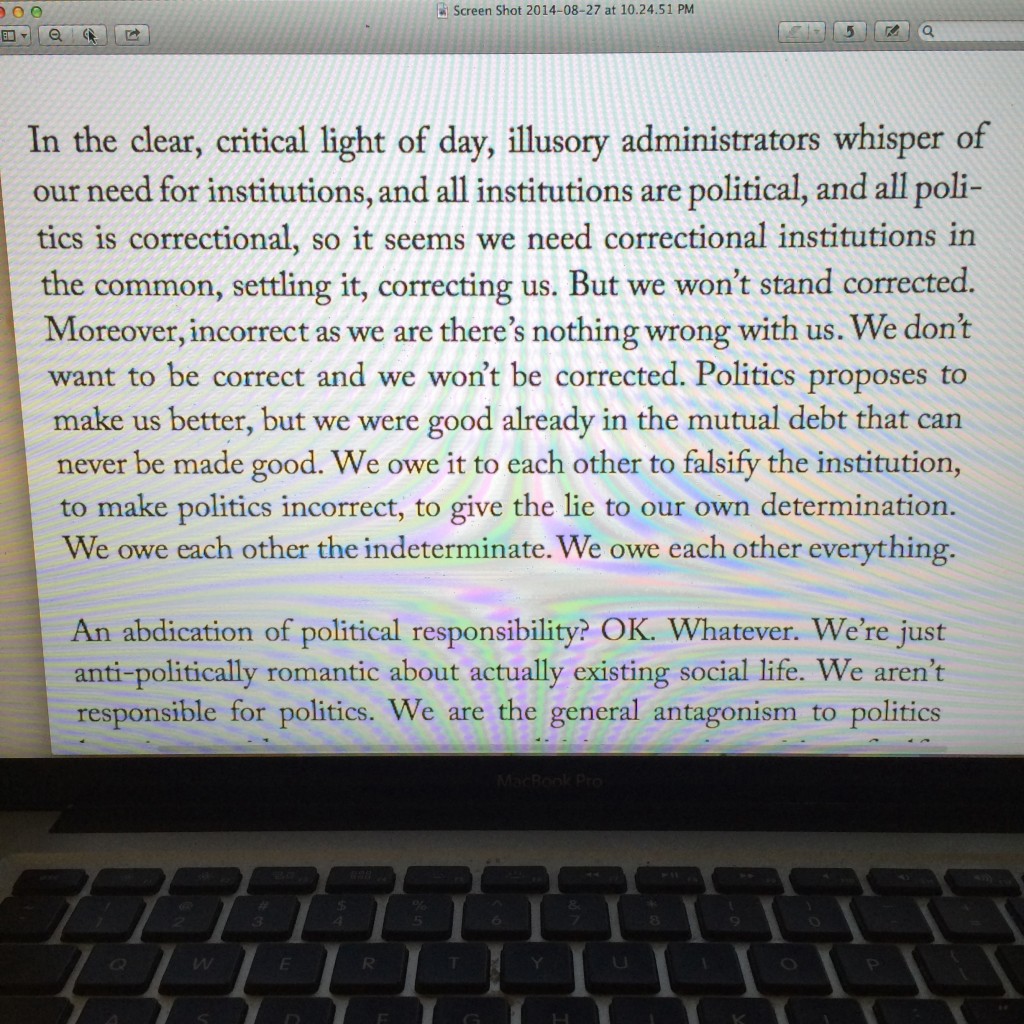 Film still from Poets on the Pyre 1; @therealstarkiller post #1779. An excerpt from Fred Moten's The Undercommons: Fugitive Planning and Black Study, p .18
---