by John Brady
1st Place – Flash 405, April 2020: "Change in Perspective"
Fiction
---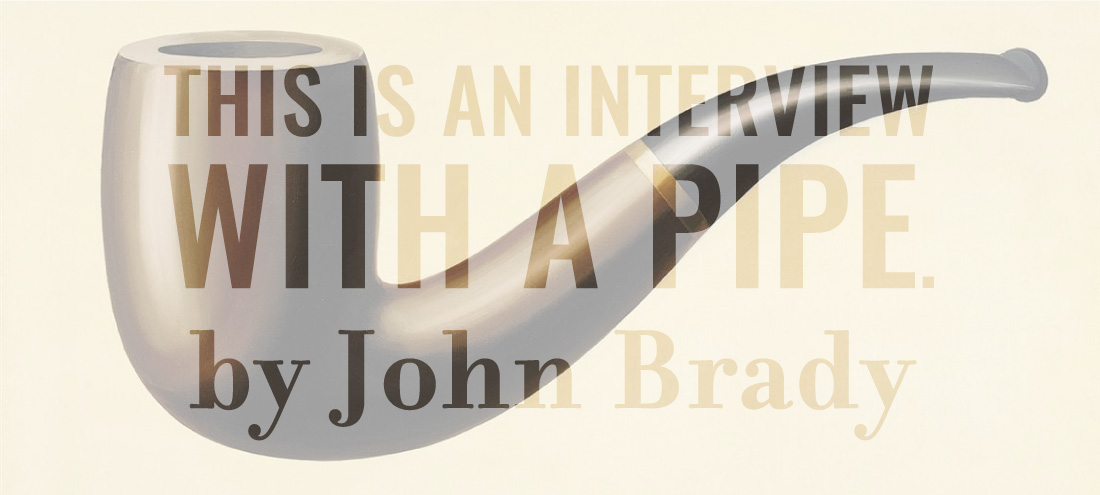 When he said he wanted to paint me, I was totally honored.
I mean, he had a lot of pipes. The guy smoked like a chimney. He was an artist. He needed an outlet.
There were so many options. Fine pipes. Ol' Smokey for example. An exquisitely detailed meerschaum. We were all shocked when he was left on the shelf.
Instead he picked me. Me!
You know where I come from?
Not some high-end bureau de tabac. He didn't even buy me. He nicked me! Stole me from the dime store around the corner from his appartement. I'm not proud of this. At the same time, the way that salope of an owner displayed us. In a dusty rack way off in the back of the store. Shameful!
My father was a corncob pipe who came through during the war and my mother was a brothel hookah. I don't think they were married.
Stolen, probably a bastard. Yes, it's been hard. Yes, I've struggled to gain self-confidence. Yes, there's been a lot of analysis. A lot.
Just imagine then what a boost it was to be chosen.
And he made me look so good. I've always been proud of the swoop of my stem. I got that from my mom. He captured it so well. When I saw that I felt really seen. I knew he appreciated how I nestled into his palm as he filled me. It's hard to express what happens between a smoker and a pipe in that moment. It's more than sensual. It approaches the sublime. He had such soft hands.
And then what does he do? He scrawls that slander: Ceci n'est pas une pipe. Oh my god!
I was there by the way. I saw him paint those words. They were an afterthought. A joke. Not some grand statement about perspective and truth. Everyone should know that. Talk about treachery!
Merde! This is so hard. But now it's my turn to state my truth!
I am a pipe.
Not a fancy boy like Ol' Smokey. But a pipe. You put tobacco in, light it and smoke me. No one should be allowed to suggest otherwise.
Why would he do that?
[Sigh]. This hasn't been much of an interview. You haven't gotten a word in edgewise.
Go ahead.
Ask a question.
---
Judge's Comments:
I adore this story because it contains every unexpected quirk I search for when looking for something new to read. The voice of this pipe is so pure and tender, reminiscent of a child. The author provides the dark backdrop in comparison, "My father was a corncob pipe who came through during the war and my mother was a brothel hookah. I don't think they were married." There is humor within the longing to belong—felt by this assumed inanimate object—so much so that I often forgot I was empathizing with a pipe!
John Brady is the author of Golden Palms, a not-your-usual-noir set in Los Angeles that's about politics and is also funny in places. He's written speeches for mayors, CEOs, and community leaders; helped citizens fight the dark arts of bureaucratic obfuscation; and created political policies that turned out to be pretty useful. His nonfiction writing has appeared in various outlets, including the Chronicle of Higher Education, Mother Jones, Punk Planet, the Los Angeles Daily News, the San Francisco Chronicle, and National Public Radio.