Honorable Mention – Flash 405, June 2018: "Nature"
Experimental Fiction
---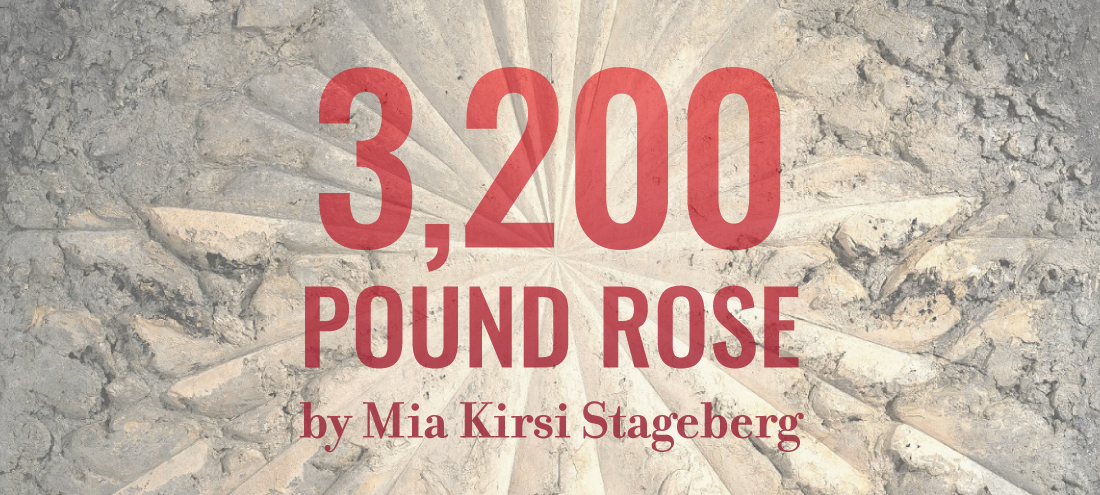 on Jay DeFeo's painting The Rose
Bulging rocks, radiating transcen­dental center. Sloughing, fervor, imprisoned trees, monument to recalcitrant ghosts, mudface, stone cicatrix, unfurling embattled innards, quest for the holy grey. O rose thou art pan­demonium when it's asleep. Bulge out, bulldoze in, breathe, breathe, the ugly truth will set you free. Once this was excrement, once these petals were boulders. Swallow a mouthful of feathers, take out your eyes, try them on.
Weatherbeaten, shock-addled, inexorable, upsurging, another day another year. This lifetime past, what's left is your heavy body lying on mine as day breaks. Let me believe, let go, let be. Let's be more, let's try again, let down your golden snare. Copulation, forgiveness, and where are you putting the colors of my life?
O rose thou givest and thou takest away, tears squeezed from pollen. Colors spew faster. Dawn, shooting stars, fire smolders. Adduce, decide, attack, contain, recall, seize. Midnight blue, royal yellow, crimson, green, all unseen.
Open your hands now, face a battle's end with honor. Have this moment, take, eat, body which is given for you, says the rose. Take my body with your eyes, touch it to your mouth.
Quick, quicksilver, knotted moons, unshored ships. Ah, down, down, heavier, spreading core, smooth, washed clean.
New skin, perforated leaf.
---
Judge's Comments:
They—and I—always say that you need to see a work of art in person to really experience it, but there is something about this piece that is a close second to actually seeing Jay DeFeo's The Rose. Kirsi Stageberg takes something so visually powerfully and makes it verbally powerful. It doesn't hurt that I almost cried the first time I saw DeFeo's Jewel (a similar piece, though rendered in rich burgundy rather than white) at LACMA, the face to face confrontation still enchanting even though I'd spent years letting the piece seduce me from the pages of my art history text books.
For me "3,200 Pound Rose" transforms the visual. It gives the reader an emotional description of a powerful and significant work of art, yet in giving us that visual, the piece is lyrical, and the fluidity of the writing, in contrast to the sharp lines of its inspiration, invite the reader in to discover this abstraction and interpret what it means to the writer and reader.
Mia Kirsi Stageberg's earliest fiction was published in the New Directions annuals. The mother of six children, she's also worked as a nonprofit fundraiser, researcher, art writer, editor, oral historian, and singer in a few bands. Her writing has been widely published in journals, most recently prose poems in sPARKLE & bLINK (Quiet Lightning) and an essay, "A Few Things You Might Not Know About Trolls" (Sloow Tapes) in Brussels. She has a novel from Beatlick Press, Candles (2014), as well as fourteen other books, chapbooks, and Ebooks. Stageberg lives in Japantown, San Francisco.