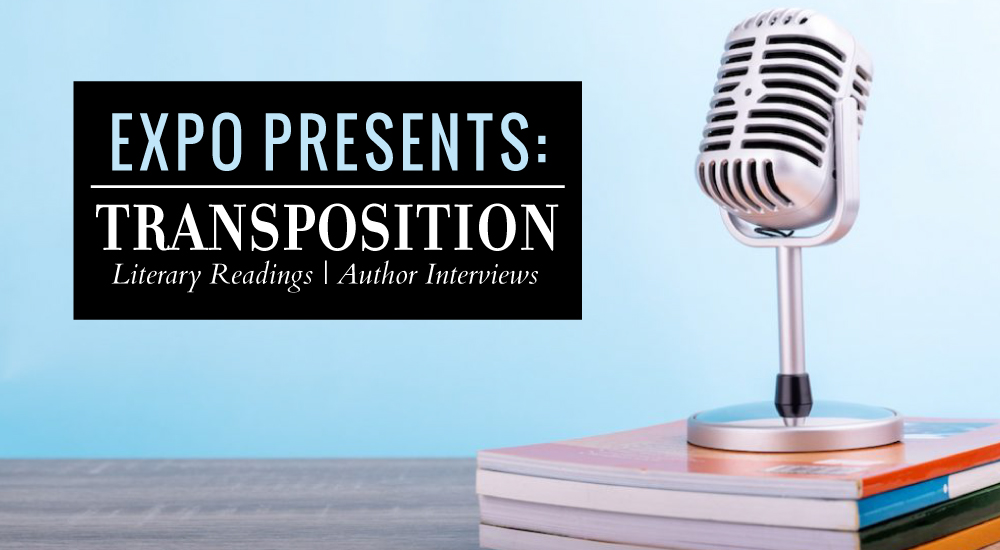 Transposition is Exposition Review's very own free literary podcast, featuring conversations on poetry, fiction, nonfiction, stage, screen, art, and experimental readings alongside performances from our contributors and interviews with host Laura Rensing as our guide.
Explore the transformations of the work in Exposition Review: from the inception of an idea to its execution and publication; from writing something down to reading it aloud. Transposition is a unique opportunity to delve into the craft of writing, the unique backgrounds of our contributors, and is just another reason that Exposition Review is more than a lit journal.
Latest Episode: Listen Now
Transposition can be found wherever you listen to literature podcasts. Subscribe on:
---
Featured Episodes
Recorded readings of pieces from our "Act/Break" issue make up the first six episodes ("Season 0") of Transposition. These episodes would be a preview to more readings alongside deeper conversations about craft, literary identity, and the publishing world. Season 1 explored work from four different Expo issues, our Flash 405 contest, and even a special episode with co-Editor-in-Chief Mellinda Hensley and guests Mia Nakaji Monnier and Christopher Gonzalez on literary identity and responsibility.
Check out some of our favorite episodes from our inaugural seasons:
Prominence with Edwin Bodney and CD Eskilson
A special poetry podcast episode with Edwin Bodney on his poem "Prominence," originally published in Vol III: "Orbit."  Joining the conversation is Expo Poetry Editor CD Eskilson, who helps uncover the deeper meanings and inspirations behind Edwin's beautiful poem.  Read along here.
---
Stranger, Brother, Stranger with Sionnain Buckley and Nancy Au
Sionnain Buckley reads her nonfiction piece, "Stranger, Brother, Stranger," which won first place in our "Underneath the Words" themed Flash 405 contest.  We're joined by Nancy Au who leads the interview in a beautiful conversation about craft, resilience, and flash sommeliers.
---
Girls Like Us by Angela Miyuki Mackintosh
Listen to Angela Miyuki Mackintosh read her haunting experimental narrative "Girls Like Us," which was published in Vol V: "Act/Break" in 2020. After you listen, be sure to check out the issue version, which also features beautiful animated illustrations.
---
Past Seasons
Season 2
Season 1
Season 0 ("Act/Break" Launch)
---
Support the Podcast
Spread the word about our amazing writers on the podcast! Help us find new listeners by downloading, subscribing, or leaving us a review saying that we're one of the best writing podcasts out there. Recommend an episode to your friends on social media, or even in real life (gasp!).
If you really love Exposition Review, you can make a tax deductible donation through our Fractured Atlas page.
Credits
Host/Producer: Laura Rensing
Associate Producer: Mitchell Evenson
Edited on Audacity
Hosted on Anchor Podcasts
Thank you to Alexander Blu for intro and outro music for Season 1, and the generous donations from our supporters that allow us to pay our authors. Exposition Review is a fiscally sponsored project of Fractured Atlas.