by Angela Miyuki Mackintosh   |  

Experimental
---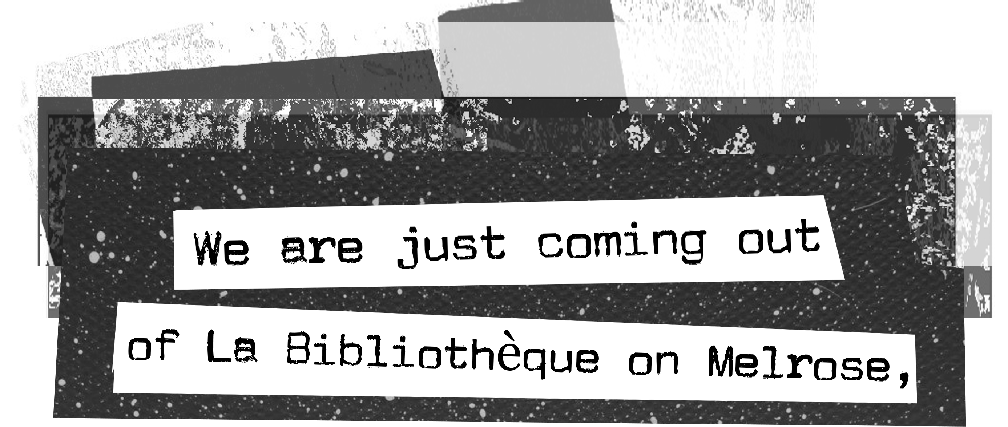 where we sipped fluffy lattes in thick mugs and ate chocolate biscotti surrounded by floor-to-ceiling bookshelves, where you quoted Chaucer when you saw that boy at the counter and said, He was as fresh as is the month of May, and I groaned because it reminded me of English, but it is May and he is beautiful and we are bright, and seventeen, and it is night,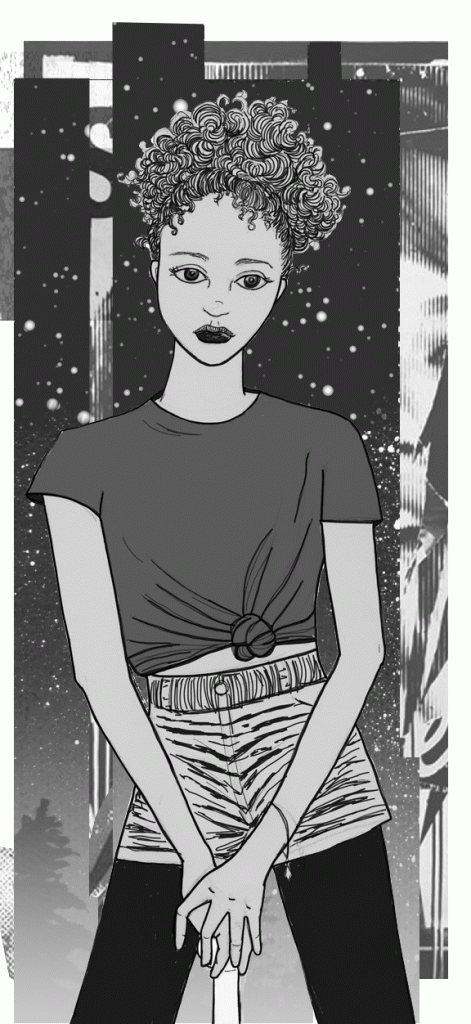 and we are two girls alone in Hollywood, so we cross the street to walk back to your red Jeep Cherokee parked in a residential neighborhood, and you're talking, but I'm drifting away from your voice into the ambient map—the buzzing streetlight overhead, swooshing cars behind us, and sharp honks at the intersection a few blocks away, clinking cups and murmuring voices from the corner café we just left, with Thomas Dolby or Peter Gabriel or Sting still in my head, which they had on a loop—and we take twenty-eight steps across the street and I'm wearing all white, a white crop top and white jeans, carrying a black velvet purse with three hundred dollars inside from my Tower Records paycheck I cashed that morning, and we stroll past a brick wall flanking a closed business, past a patch of green grass too verdant for night, the boxy neighborhood darkening, collapsing as we walk, and I spot a black Pontiac pulling up in the alley behind the café and watch two young girls get out, girls like us, and they get out and slam the door, but you don't notice them because you're talking, and I'm watching these two girls stride across the street with purpose, the driver looking over his shoulder, the reversing Pontiac's headlights blazing their legs, and when they cross the street and start to breeze past us, I notice my girl, no more than fifteen, her tight poodle curls pulled back, the scent of coconut shampoo drifting from her damp hair, acid-wash jean shorts and white Reeboks, her arms behind her back, the glimmer of metal she's hiding behind her, and I say hi as they pass, but the corners of their eyes don't turn up when they smile—they remain fixed, wide, piercing, like a cat when it's locked onto its prey—and a cold spike rockets through my body, but it's too late because the second they walk past us they turn back around and yell, Gimme your purse, bitch!, in unison like they've practiced it at home in the mirror, and when I start to turn, the squeak of my sneakers pivoting like those on a basketball court, I'm beat in the head with a metal baseball bat, my ears pitching, my head underwater unable to surface,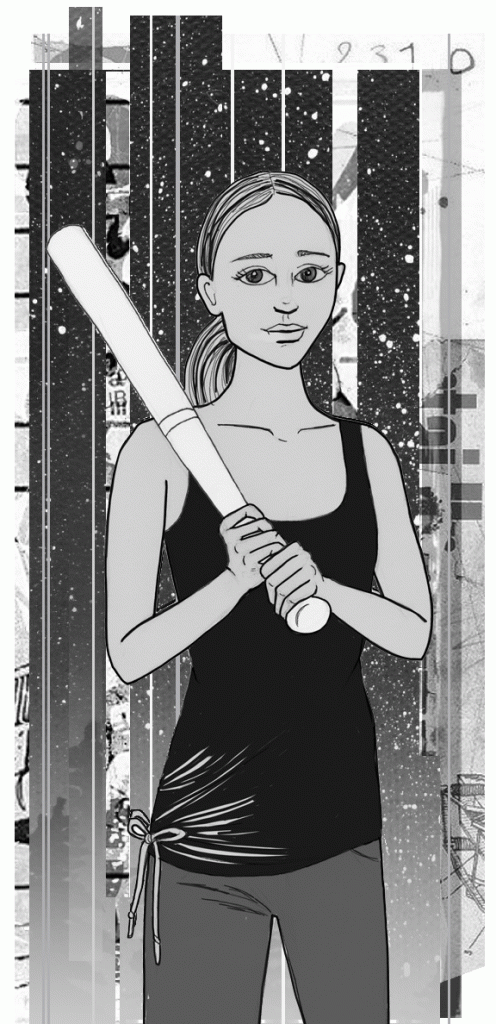 but I remember the three hundred dollars and I grip my purse handle tight with both hands and use my body weight to pull myself down onto the patch of grass, scraping my white jean ass across the green, and my girl towers over me, the streetlight catching the curled fringes of her hair, her eyebrows arched and face darkened as she swings her arm up and brings the bat down again on my head, cracking my skull near my left temple, and with that booming thud, I release my grip, freeing the purse from my hands, blood splattering and streaming down onto my white outfit, into my white jeans and underwear, and I hear you screaming, Help!, so I crane toward your voice, and you're running down the sidewalk across the street, your girl chasing after you holding your purse, which you'd given up instantly, unlike me, and she's beating the back of your head with her bat as you run back into La Bibliothèque on the corner, and when you step through the doorway into safety, your girl retreats with my girl, and they race back to the alley, back to the black Pontiac that has reappeared and is waiting for them, and all I can think about is how young they are, how they're girls like us, and as I enter the café with blood gushing from my head all over my white outfit like Carrie at prom, and the barista yells, Oh my god!, and presses a dishcloth to my scalp, and when the police arrive and we recount the events, and later, when I'm getting fifteen stitches from the handsome doctor who wears fuzzy leopard print creepers at Cedars-Sinai, and even though I already know the answer to this question, I can't help but think about how young they are, how they're girls like us, and wonder what makes us turn on each other like that.



Hear more readings from "Act/Break"
---
Angela Miyuki Mackintosh is a writer and illustrator living in Los Angeles. A Pushcart Prize and Best of the Net nominee (both 2019), her work has been published in Vice, Red Fez, Awakenings, The Nervous Breakdown, Eastern Iowa Review, and Writer's Digest, among others. She is the executive editor of WOW! Women On Writing. wow-womenonwriting.com.