by Bobby Wilson
Honorable Mention – Flash 405, February 2017: "Monster"
Screenplay
---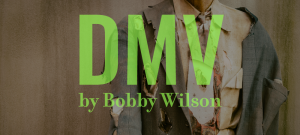 FADE IN:
INT. DEPARTMENT OF MONSTER VERIFICATION – DAY
Sitting in the hard-back chairs of the DMV is our protagonist ROGER, 24. He wears dirty blue jeans and a white a-shirt that is stained with blood turned the color of rust. Atop his head is his Oakland A's hat which has seen better days. His face is covered in stubble and some dry blood and brain matter that didn't/doesn't belong to him. Folks, Roger is a zombie.
DIGITIZED VOICE
A33!
Roger looks down at his number. He grunts and drags his stiff body to counter #3 where the TV mounted overhead flashes his number like he's won the Price is Right. Waiting for him at the counter is LOIS, 40s, a demon of the seductress class. She wears a name tag and retro cat eye glasses. Her hair is done up in a bun, not a beehive. As soon as Lois sees him she sighs as if to say, "Not another one."
LOIS
How are you today?
ROGER
(grunts)
Lois holds out her hand for Roger's paperwork. He hands it over. It's wet with drool and Roger's bloody fingerprints. Lois begins scanning.
She stops and let's out a predictable sigh. With her red pen she circles something on the form.
LOIS
Sir, under monster type you checked
other.
ROGER
(grunts)
LOIS
Well, sir, that space is usually
reserved for foreign nationals with
folkloric origins. Like an Urisk or
an Encantado or a Chupacabra.
ROGER
(neigh, low grumble)
LOIS
Right, well, we don't have a box
for Zombies because Zombies are not
officially recognized as Monsters
ROGER
(Chortle, cough, deep
moan)
LOIS
Sir, I will not be talked to like
that.
ROGER
(squawk, beep, groan)
LOIS
Sir, I don't make the rules. We
have some literature on
classifications…
Lois rummages for a pamphlet in her desk drawer. Nothing.
LOIS
I'm sorry, but I'm out of
pamphlets. You can go to our
website, www.—
ROGER
(throws hands in the air,
grumbles)
LOIS
Well, maybe if you people didn't
come in here every three seconds,
decomposing on our floor and
drooling everywhere, we'd still
have some pamphlets to give you.
Beat.
ROGER
(with great effort)
You people? YOU PEOPLE?!
Heads begin to turn. Lois's SUPERVISOR (50s), a werewolf sitting a few chairs over, gives her a quizzical look.
She turns back to Roger. She removes her glasses and rubs her eyes.
Lois takes out a tube of Wite-Out and cleans the form of her red pen marks. With her black pen she checks a box. Then she stamps the form and hands it back to Roger.
LOIS
Take this to window #4. If anyone
asks, you're Egyptian.
ROGER
(high-pitched squeal)
LOIS
Look, do you want to be verified or
not? Just tell them you're one of
the Ramses. It usually works.
ROGER
(beep, honk)
LOIS
Tell them your wrappings are being
washed or whatever. Now go.
Roger looks at the form and then back up at Lois. He smiles, but a little too widely and part of his jawbone breaks through his skin.
Lois grimaces and smiles back, waving him away. Roger walks off. Lois pushes a button.
DIGITIZED VOICE
A34!
FADE OUT.
---

Judge's Comments:
Finally! Something smart AND funny. DMV tows the line of slapstick gag humor with some interesting parallels to actual classicism and racism. This piece used the form of screenplay well (and it did help that I've personally experienced a zombie renaissance in which I love all things zombie).
Bobby Wilson lives in China where he teachs English and writes. His creative nonfiction has appeared in the Longridge Review, Feminine Collective, The Dead Mule School of Southern Literature, and Unlikely Stories. He spends most of his time reading, writing, studying languages, and cooking. He's married and owns a cat.